FASCCO is open and available to provide support to U-M faculty and staff with phone sessions and virtual telehealth sessions as appropriate. 
Call 734-936-8660 or email fascco@umich.edu to schedule.  
Crisis Services
If you or someone you know is in immediate danger and need help now:
Local
Dial 911
Call U-M Psychiatric Emergency Services: (734) 936-5900 or Go to the nearest hospital emergency room
National
National Suicide Prevention Lifeline - you will be connected to a confidential counselor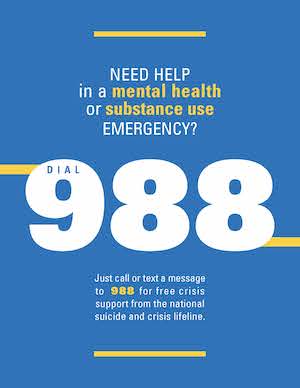 Text UMICH to 741741 to connect with a confidential counselor at the Crisis Text Line
Veteran's Crisis Line at 988, press 1.  You may also send a text to 838255
National Domestic Violence Hotline - 1-800-779-SAFE (7233) available 24/7

The Faculty and Staff Counseling and Consultation Office (FASCCO) provides support and assistance to university staff and faculty in resolving personal or work-related concerns. The goal is to help you develop and foster strengths and resiliency to enhance your emotional health, well-being, and job performance. You can find support here, including confidential and professional counseling, coaching, training, and consultation services for supervisors. Campus staff, faculty, retirees, benefit-eligible adult dependents, and departments are encouraged to contact us for support. 
Contact us at 734-936-8660. View hours and location. Help raise awareness about the support available for your colleagues by printing and posting this flier in your work area.