If you need help, we're here for you. 
Urgent Support or Emergency 
If you or someone you know needs to talk about an emotional health concern with someone right away, or may be in psychiatric crisis and poses an immediate threat to themself or others:
Local
Dial 911
Call U-M Psychiatric Emergency Services: (734) 936-5900
Go to the nearest hospital emergency room
National
Call or text the toll-free National Suicide Prevention Lifeline - you will be connected to a confidential counselor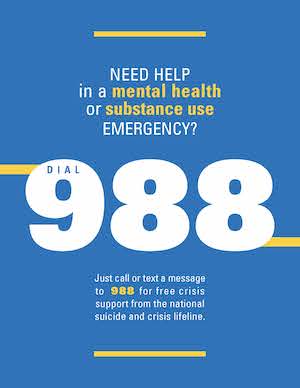 Text 4UMICH to 741741 to connect with a confidential counselor at the Crisis Text Line
Visit CrisisChat.org
Call the Veteran's Crisis Line at 988, press 1.  You may also send a text to 838255.
Call the Trevor Lifeline at 1-866-488-7386, or text TREVOR to 1-202-304-1200.
Counseling Appointments, Referrals, and Information
We all need support sometimes. For confidential counseling at no charge to you, referrals to specialists, or general information on how to help yourself or others manage mental and emotional health concerns, please reach out.
Healthcare Coverage
Note: Mental health services are a covered benefit under your health insurance, but there may be some limitations. Before scheduling an appointment with a mental health provider, we recommend you:
* Electronic Mail is not secure, may not be read every day, and should not be used for urgent or sensitive issues.