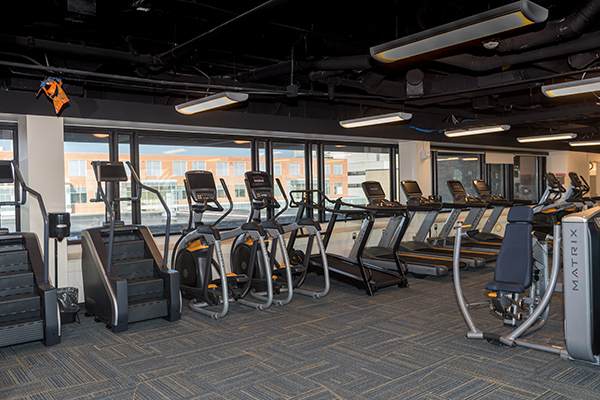 The new UH South Wellness Center, scheduled to open November 6, 2017, will offer convenient access to physical activity equipment and services, as well as other health and well-being programs, to Michigan Medicine faculty and staff. Once opened, it will be available to members 24 hours a day, seven days a week.
Location: 8th floor of UH South (the easiest way to get there is to take the Number 9 elevators to the 8th floor)
Contact: Questions about the new wellness center should be directed to MHealthy at (734) 647-7888 or UHSouth-wellness@med.umich.edu
Membership Waitlist
Membership to UH South Wellness Center is not currently available. If you are a Michigan Medicine faculty or staff member interested in purchasing a membership, please add your name to the waitlist. 
If memberships become available, the earliest we will be inviting employees to purchase a membership is spring 2018. At that time, we will email waitlisted employees – in the order they appear on the waitlist – with the opportunity to purchase a membership.
Membership Lottery
The Membership Lottery has closed. Those who were randomly selected to purchase a UH South Wellness Center membership were notified by email the week of October 23, 2017.
If you are an employee who was selected in the lottery, please purchase your membership by Nov. 17, 2017. If membership is not purchased by Nov. 17, the opportunity is forfeited.
Membership Information
A limited number of memberships (1,200) are available.
All Michigan Medicine active full- and part-time faculty and staff are eligible to become members if their name was chosen through the lottery process. Temps and volunteers are not eligible. There is no contract or initiation fee.
A membership is $10 per month, which covers the cost of facility maintenance and towel service.
Memberships are paid on a monthly basis, auto-deducted through a credit/debit card. Payroll deduction is not an option for this service.
Wellness Center Amenities
Watch this short video for a tour of the facility!
State-of-the-art cardiovascular and strength training equipment
Space for group exercise and relaxation classes
Towel service
Men, women and gender inclusive locker rooms
Personal training (please note that there is a fee for this service)
Classes and counseling for health topics such as weight management, tobacco consultation, etc.
Physical therapy services for work-related injuries provided by Occupational Health Services
Work kiosks, which include phones and computers
Photos