*IMPORTANT NOTICE: In compliance with the Governor's executive order, the UH South Wellness Center will be closed until further notice.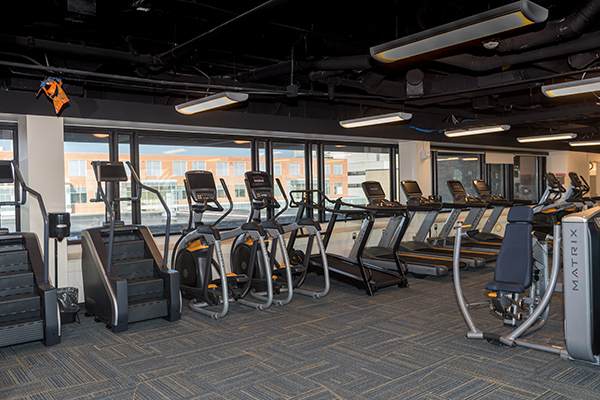 A Message to UH South Wellness Center Members (as of June 24, 2020):
The UH South Wellness Center remains closed due to Governor Whitmer's Stay Home, Stay Safe Executive Order. As our state begins to reopen certain businesses, we know our members will have questions about MHealthy's plan to reopen the Wellness Center. We want to provide full transparency around the opening.
Preparing to Reopen Safely and Responsibly
When the order put in place by Governor Whitmer is lifted, and gyms are allowed to reopen, we anticipate needing a few weeks to complete the necessary maintenance and safety precautions as we prepare to reopen. While we are eager to reopen the facility, we want to be sure we are doing so safely and responsibly.
The steps that we are taking to prepare include:
Making sure all our staffing needs are met.
Deep cleaning and sanitizing of the wellness center.
Redesigning, limiting, and restructuring equipment layouts to promote social distancing of 6-10 feet between members.
Ensuring all building systems (HVAC, sanitary, etc.) are running efficiently.
Procuring necessary cleaning and safety supplies.
Establishing new protocols and procedures.
The exact reopening dates for the Wellness Center will not be determined until after the Governor's order as it applies to fitness centers in our region is lifted and staff are able to return to work. This will allow us to evaluate the amount of work needed and then develop timelines for how quickly this work can be completed given current lead times on procuring equipment and supplies.
Changing Your Membership Status and Billing
During the time leading up to our reopening of the UH South Wellness Center, we encourage you to consider what your usage of the gym may be, once it is open. If you find that you need to cancel your membership, please feel free to email uhsouthcancellation@med.umich.edu and we will process your request. We will be amending our rejoining policy to accommodate those that need to cancel due to the COVID-19 event. We will make sure to move those people to the top of the waiting list, which will make the rejoining process quicker, once they decide to do so.
Once we are able to reopen, we will resume the regular billing schedule by charging your $10 membership fee on the 5th of each month according to the payment information we have on file.
We are excited about the opportunity to reopen and serve our members. We miss seeing you and the opportunity to provide for your health and well-being needs. When we come back, we want to make sure we do so in the safest way possible for all members. We appreciate your continued patience and understanding during this evolving time.
Best Regards,
MHealthy - UH South Wellness Center Staff