*IMPORTANT NOTICE: The UH South Wellness Center's reopening plans reflect adherence to the Michigan Department of Health and Human Services Epidemic Orders.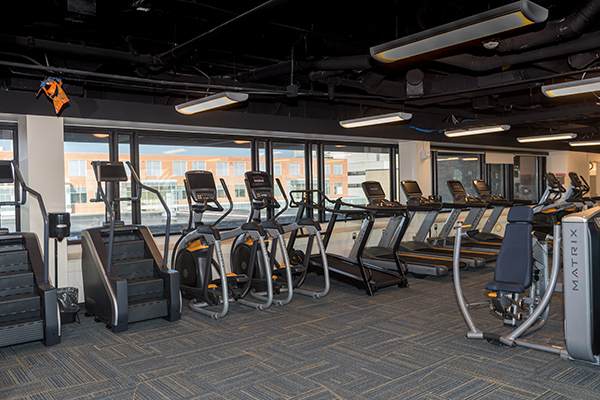 A Message to UH South Wellness Center Members (as of October 14, 2020):
Thank you for your patience as we finalized plans to reopen the wellness enter. We are pleased to announce that the UH South Wellness Center will reopen to members on Friday, October 16, 2020 at 6 a.m.
We are excited about the opportunity to reopen and serve you! We have made many changes in order to make the space as safe as possible during the COVID-19 pandemic.
Here is what you can expect when returning to the wellness center:
Mask Policy:
Masks must be worn at all times (except when showering). We ask that you please bring your own mask (spare masks are available if needed).
Reduced Capacity (25% capacity restriction):
Main gym: A total of 12 members will be allowed in the main gym at a time.
Group exercise room: Several pieces of cardio equipment have been moved into the group exercise room. A total of 3 members will be allowed in at a time.
Locker room: A total of 5 members in the women's locker room and a total of 4 members in the men's locker room at a time.
Distancing, Cleaning, and Other Protocols:
Exercise mats will not be provided. We ask that members bring their own mat to use.  Personal mats cannot be stored in the wellness center. 
Equipment has been moved to enable social distancing of at least six feet while using equipment.
A one-way flow of walking traffic will be promoted through one-way arrows on the floor.
Increased cleaning and sanitation of high contact/traffic areas, as well as locker rooms/restrooms.
Sanitation wipes and touch free hand sanitizer stations are provided throughout the wellness center.
Signs to remind members of the importance of social distancing, self-monitoring of symptoms, and cleaning after using any equipment.
The use of fans in the wellness center is prohibited at this point in time.
Access and Staffing:
The Wellness Center will remain open 24 hours a day, 7 days a week, and will be staffed from 6:00 a.m. until 6:00 p.m., Monday through Friday.
Billing and Changing Your Membership Status:
We plan to start the monthly billing process again on November, 5, 2020. On this date we will process the $10 monthly membership fee for any active member on the card you have on file. Please take a minute to confirm that your payment method is accurate and not expired.  If you need to update your billing info, please see the attached document for detailed instructions. 
If you would like to cancel your membership at this time, email uhsouthcancellation@med.umich.edu and we will process your request.  Please request your membership cancellation no later than Friday, October 30, 2020, to avoid being charged on November 5, 2020.