C. Everett Koop National Health Award Winner (2021)

The University of Michigan and MHealthy have been recognized with a number of honors and awards. Below is a select list.  
The University of Michigan and MHealthy has been recognized as a national leader in workplace well-being with the 2021 C. Everett Koop National Health Award. To be considered, winners are required to document results, both in terms of health improvement and economic impact. The review panel included experts in the field of workplace well-being from various agencies, companies and universities. They noted U-M's strengths in the following areas:
strong wellness design and comprehensive programs
support from leadership and infrastructure
innovative approaches to addressing diverse and socially vulnerable populations
shift to address emotional well-being (especially targeting connectedness and social isolation), financial and other needs during the pandemic
impact on health risks and claims costs
performed better than national benchmarks in illness-related absenteeism, turnover and organizational health scores
strong culture of health over time
The C. Everett Koop National Health Award is given by The Health Project, Inc. Its mission is to seek out, evaluate, promote and disseminate the lessons learned from exemplary health promotion and disease prevention programs with demonstrated effectiveness in improving employee population health and related business outcomes. Board members include representatives from various agencies, companies and universities, including Johns Hopkins, Stanford, the CDC, Johnson and Johnson, and the University of California.
Michigan's Best and Brightest in Wellness (2019, 2018)
The award honors organizations that are making their workplaces, their employees and the community a healthier place to live and work. The University of Michigan received the award in the Wellness Employers category.
Governor's Fitness Award (2019, 2017)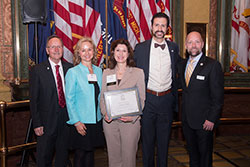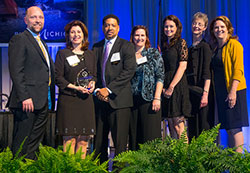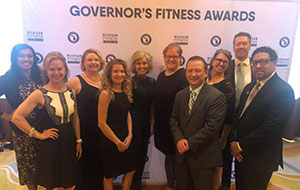 The University of Michigan was selected as a finalist (2019) and the winner (2017) in the Healthy Workplace – Very Large Company category for the Governor's Fitness Awards. These awards honor individuals and organizations for their efforts to help people live healthy lifestyles. Organizations considered in this category were evaluated on policies, procedures, resources utilized, executive leadership involvement, culture, evaluation and results, and influence on family/community. The Governor's Fitness Awards is sponsored by the Governor's Council on Physical Fitness, Health and Sports in conjunction with the Michigan Fitness Foundation.
President's Staff Awards of Distinction (2019)
The President's Staff Awards of Distinction was presented to Project Healthy Schools at MHealthy. The special award honors those whose accomplishments displayed innovative contributions to the university.
Healthiest Employers of Southeast Michigan (2019, 2016, 2015, 2014)

For three consecutive years – 2014, 2015, and 2016 – the University of Michigan has been named one of the Healthiest Employers of Southeast Michigan. This award measures wellness programming in six categories and recognizes companies around the state whose policies, programs and cultures create healthy employees and healthy workplaces. Winners were chosen in two regions, Southeast Michigan and Greater Michigan. The University of Michigan has won in the Healthiest Employers of Southeast Michigan – 5,000+ employees category. 
U.S. Healthiest 100 Workplaces Award (2016, 2015, 2014)
The University of Michigan has been named one of the Healthiest 100 Workplaces in America for three consecutive years, 2014, 2015, and 2016.  This award recognizes employers who have comprehensively incorporated the most effective employee wellness programs and practices. The recognition resulted from a year-long assessment process. U-M has placed at 55 (2014), 68 (2015) and 33 (2016) on the list of top U.S. 100 employers. The recognition comes from Healthiest Employers, a national data research firm specializing in health analytics, best practices and benchmark data.
Edington Next Practice Awards (2015)
The University of Michigan earned the Edington Next Practice Award in Quality Assurance in 2015. The Edington Next Practice Awards recognizes organizations that are actively engaged in the pursuit of a healthy, high-performing workplace and workforce. Nominees were considered in each of five core pillars:  Senior Leadership, Operational Leadership, Self-Leadership, Recognition and Rewards and Quality Assurance. U-M was one of only three organizations nationally recognized, winning in the Pillar V, Quality Assurance category. The award is presented by Edington Associates LLC, in conjunction with CBIZ Employee Services, a division of CBIZ Inc.
Welcoa Well Workplace Gold Award (2014, 2010)

MHealthy and the University of Michigan received the Wellness Councils of America (WELCOA) Well Workplace Gold Award in 2010 and 2014. The Well Workplace Awards initiative is driven by a rigorous set of criteria and recognizes some of America's Healthiest Companies. The WELCOA Well Workplace Gold Award is awarded to companies that fully embrace their responsibility for improving the health and well-being of their employees. The Gold designation signifies an organization that is developing comprehensive programs that produce results and are a strategic and integral part of the business.
UMHHC Program of the Year Award (2013)
Project Healthy Schools (PHS) was named U-M Hospitals and Health Centers' Support Services Program of the Year for its commitment to creating healthy school environments and bringing real value to local and regional communities. PHS partners closely with schools around the state to fight the obesity crisis affecting school children in the United States. The program has been implemented in 43 schools across the state, with more than 24,600 students receiving PHS lessons.
C. Everett Koop National Health Award Honorable Mention (2012)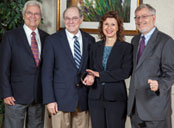 The University of Michigan and MHealthy received an honorable mention as one of five companies recognized for the C. Everett Koop National Health Award in 2012. C. Everett Koop was a former Surgeon General for the United States. His leadership in prevention led to many of the gains our country has made in reducing smoking and other health risk factors. The Koop Awards are the most prestigious awards for health improvement programs, requiring a rigorous evaluation and data to demonstrate both health improvement and cost savings.
CUPA-HR Midwest Region Excellence in Human Resource Practices Award (2012)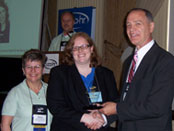 The University of Michigan's MHealthy Health and Well-Being Services received the CUPA-HR Excellence in Human Resource management Practices Award for the Midwest Region. This award honors the achievement of a Midwest Region college or university HR department which demonstrated successful work to improve the quality of programs and services through effective HR administrative practices, creative application of HR principles, strong leadership or direction and/or has been recognized within the institution or by peers as providing an outstanding HR program.