With FDA "emergency use authorization" of the COVID-19 vaccine, Michigan Medicine is ready to begin vaccinating health care workers. Learn more.
Reporting Outside Positive COVID-19 Test Results
Students, faculty and staff on the Ann Arbor campus, including Michigan Medicine, who have tested positive for COVID-19 within the past 90 days outside of U-M – that is, outside of University health Service (UHS), Occupational Health Service (OHS), or the Community Sampling and Tracking program (CSTP) are asked to report their positive test result here (or scan the code below).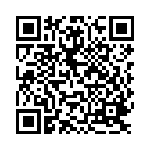 The information collected will be directed to appropriate units for follow up including: University Health Service; Environmental Health & Safety; Occupational Health Services; and/or Infection Prevention and Epidemiology.  University or county health officials may reach out for case investigation and contact tracking, and the information gathered will help target resources for testing, support and mitigation.
Frequently Asked Questions about COVID-19 for Michigan Medicine Workforce Members 
UMHS Infection Prevention Novel Coronavirus (such as MERs-CoV, SARS, and 2019-nCoV) 
UMHS Infection Prevention Work Restrictions for Staff with Infectious Diseases Policy 
Travel during the COVID-19 Pandemic 
Register all International Travel 
Infection Prevention & Epidemiology Webpage 
University of Michigan Campus COVID-19 Information 
Exposure Notification and Contact Tracing Protocol for Michigan Medicine Workforce Members Testing Positive for COVID-19