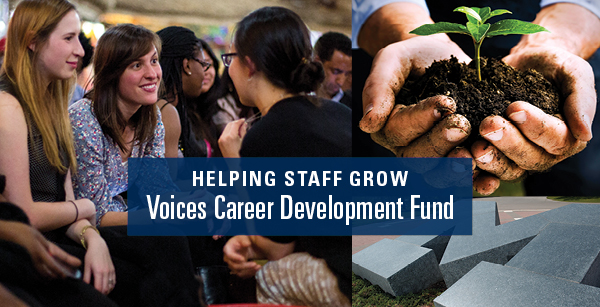 The Voices Career Development Fund is on hold due to the pandemic. An update is expected by summer 2022.
The Voices Career Development Fund was created by staff to honor the university bicentennial by helping staff achieve their career development and continuing education goals. The idea for the fund came from Voices of the Staff alumni. Fundraising began in 2015 and first awards were distributed in December 2017 in recognition of the U-M bicentennial year.
The fund aims to support staff in enhancing their professional experience at the university by offering grants of up to $1000 to fund:
Career development—by enabling participation in seminars, workshops or apprenticeships
Learning and educational enrichment—by providing financial assistance for continuing education and/or degree or certification or costs of equipment or supplies related to these pursuits (such as textbooks or computer equipment)
All regular U-M staff members in good standing with one or more years of service are eligible.
Nominations are reviewed by the Voices of the Staff Program Management team. 
Questions? Email Ann. Want to support the fund? It's easy. Sign up for a one-time or monthly gift. The more you give, the more we can too!
Participants will be required to submit proof of participation in the career development activity for which grant funding is provided within one year of the date that grant funding is received.