If you are interested in setting up a lactation/personal care room, contact your human resources manager or your building facilities manager. Modifying facilities to accommodate nursing mothers can be a fairly simple and inexpensive thing to do.
Setup Guide
Secure support of top administrator(s) in your unit. Sometimes it may be necessary to have a committee of people who support this idea to bring it to their attention. Check out web resources.
Consider the following lactation space recommendations:

Locate it in a space that is NOT in a restroom; lactation rooms in restrooms do not meet the requirements of the Affordable Care Act (ACA)
Try to avoid creating a lactation space that can only be accessed through bathrooms, locker rooms, or similar areas
Do your best to provide a sink, so breast pump equipment can be cleaned, and install a regular faucet instead of a motion-sensing faucet, which shuts off too frequently for effective cleaning
Offer a microwave, so breast pump equipment can be sterilized
Make clear access to an electric outlet
Obtain a comfortable, washable and sanitizable chair (e.g. vinyl)
Place a small table next to the chair
Consider using a non-carpeted floor that can be easily cleaned
Create a relaxing space by using soft colors and gentle lighting (e.g. lamps, wall sconces), and make sure the lights are not on a motion sensor system
Offer paper towels and sanitizing wipes
Arrange for the room to be placed on the building's regular cleaning schedule
Identify the room with a lacation space sign
Create a locked or secure area, and provide a privacy please sign
Assure that the room is temperature-controlled, warm and comfortable
Post a room usage schedule, or create a Google or Outlook calendar so those who use the room can view and edit
Consider purchasing a commercial pump, if this is desired by lactating moms
Hang a bulletin board so you can post educational materials, and so moms can post baby photos, etc.
Provide a log or notebook for moms to share their experiences and offer support
Consider providing lockers for storing personal items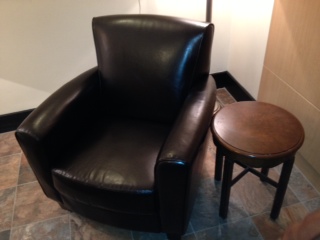 Rackham Graduate School Lactation Room
Furniture Ideas
For used furniture, consider U-M Property Disposition. This is a good source for tables and chairs at a low cost. Furniture can be recovered by the U-M Upholstery Shop with washable fabric. For new furniture, contact U-M Procurement for approved strategic suppliers.
Personal Rooms
General
During the programming phase for each new building or major renovation project, perform an assessment of the necessity of providing personal rooms for lactation, health needs and other special personal uses requiring privacy.
Consider the following:
Projected staff, faculty, and student needs.
Proximity and suitability of existing accommodations in adjacent buildings.
If included in the project, locate personal rooms in a space that is not a restroom and is accessible to all building occupants.  Space can be shared with other compatible program elements. Review access provisions and security requirements with Design Manager.
Minimum Standards for Personal Rooms
Personal rooms included in the project shall meet the following minimum standards:
Door which can be locked from the inside and includes occupancy indicator. In collaboration with the Design Manager and user, review the specific operation of the lockset, including consideration if it should revert to locked or unlocked state  if the latch is retracted.
If room contains windows, provide blinds, shades or other accommodations to prohibit views into the room.
Electrical outlets.
Acceptable environmental requirements (heating, cooling, lighting, etc.) equivalent to what is provided in other occupied areas of the building. Lights should not be on a motion sensor.
Size room to accommodate at least a comfortable chair and table (to be provided by client). Alternatively, provide a shelf, minimum 12" deep, in lieu of the table.
Access to a clean sink.  If a sink is not provided in the room, a clean sink should be available nearby.
Optional Features
Review the following optional additional amenities with the Design Manager:
Sink
Additional electrical outlets and space to accommodate the following Owner provided equipment:
Small refrigerator
Microwave for sterilizing equipment
Electric breast pump.
Telephone and data jacks.
Signage which includes a sign-up schedule for the room.
Electronic access control - keypad stand-alone battery operated unit or card reader connected to central access control system.