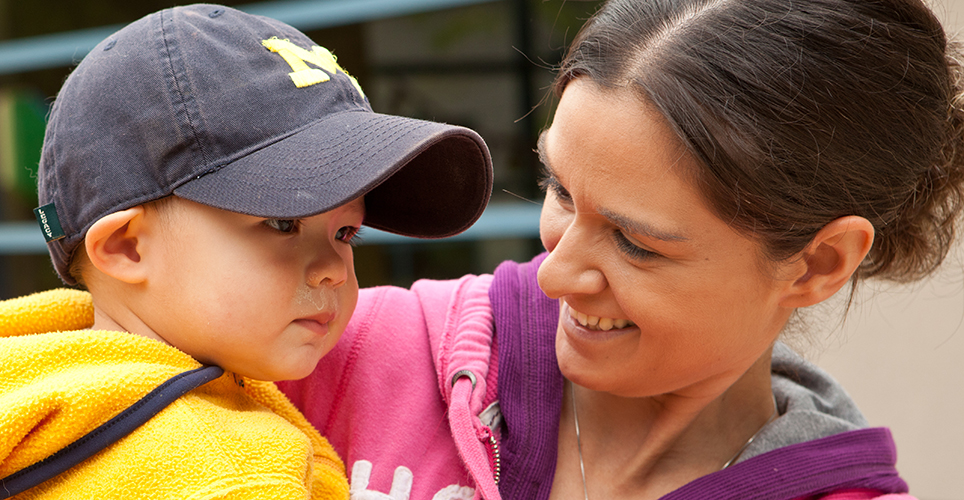 A recent article in The Atlantic cites the University of Michigan's Child Care Subsidy as one of 17 programs highlighted in a recent Urban Institute report showcasing approaches colleges and universities are taking to meet the child care needs of student parents.
The article reports that student parents who have access to child care are much more likely to stay in school and to graduate. Yet, across the country, approximately one quarter of undergraduates have children, but few have access to child care.
The Urban Institute report recognized the University of Michigan for offering a variety of services that address the child care needs of student parents, faculty and staff.
These services include:
The U-M Child Care Subsidy program, administered by the U-M Office of Financial Aid, is funded by a $1 fee paid by all students and the university's general fund to provide child care tuition assistance for income-qualified students with children. For the 2015-16 academic year Child Care Subsidy funds were awarded to 20 undergraduate students and 186 graduate student students. Total awards were $1,157,240.
The University of Michigan Children's Centers, a unit of University Human Resources, also provide need-based child care tuition support to UM-affiliated students, faculty or staff members who have a child or children enrolled at one of the U-M Ann Arbor Children's Centers—Health System Children's Center, North Campus Children's Center and Towsley Children's House. Eligibility is determined by family size and income.
The Children's Centers and Work-Life Resource Center also provide information about a variety of other helpful financial support resources available to student and working parents.
Jennie McAlpine, senior director of Work-Life Programs, says "By advocating for enlightened policies, practices and services, the University of Michigan is better able to recruit and retain the highest-quality faculty, staff and students. Educating and caring for children in a safe and nurturing environment is tremendously important to the children's healthy development, and serves to enhance the ability of our faculty, students and staff to contribute to the university community while pursuing their academic and professional goals."