Voices participants regularly contribute input to help shape the university's programs and policies for the better. They also deliver innovative conferences, develop helpful websites, produce insightful videos, and create useful resources. For a quick summary of the decade of difference made by staff, view this Voices Accomplishments flier.
Voices Leveraging Technology Team Training and Resources Website
This test website allows you to quickly view training available to the university community on various topics.
Voices Annual Report
Voices, as it's often called, is a volunteer-based initiative that was launched in February 2005 to give staff, at all University campuses and the Health System, a stronger voice for developing and sharing ideas about the campus community topics that matter most to staff. Annual Reports are created to provide a snapshot of the impact that positive and sustained employee engagement has made on our university.  
View the 2015-2016 Annual Report.
View the 2014-2015 Annual Report.
View the 2013-2014 Annual Report.
Conferences and Events
Voices Town Hall on the Future of Work

Voices of the Staff opened its 10th year Thursday, January 22, 2015, with a town hall meeting that drew President Mark Schlissel and 100 staff volunteers interested in building on Voices changes that benefit staff.
The president was on hand to support the Voices mission and participate in an "elevator speech" exercise. Volunteer groups devoted to 12 separate topic areas conferred, then nominated a spokesperson. Each one stood before the president to deliver a brief summary of their suggested changes.
U-M StaffWorks Best Practice and Technology Conference
U-M StaffWorks is a showcase of speakers and poster sessions by Michigan staff highlighting insight, innovation, experience, and expertise in the use of technology and best practices to support the services and operations of the university. The event was held in 2011, 2013, and 2016. Please see the U-M StaffWorks page for information, videos and examples of nearly 100 staff-developed presentations and posters.  
U-M StaffWorks connects staff from across campus to cultivated shared learning opportunities and networking. And it provides a forum to share experiences and help U-M colleagues find proven, implementable solutions.
Please contact U-M StaffWorks with questions.
Programs
Career Development Passport Pilot (CDPP)
Beginning in March, 2013, more than 500 staff members from the Ann Arbor campus and Health System participated in the Career Development Passport Pilot. The pilot was created by the Voices Career Development Team.
Staff participated in various career-focused growth and development activities surrounding self-assessment, career exploration, professional development and opportunities to hone job search skills and techniques. The 12-month long pilot officially ended on February 28, 2014.
On February 7, 2014, a CDPP Capstone Event was held at the Michigan Union where attendees had an opportunity to hear a leadership panel discussion during which the following individuals shared their career stories, offered career support and advice and responded to participant questions:
Tom Baird, Assistant Vice President for Development
Deborah Childs, UMHS Chief Human Resource Officer
James Jackson, Director of the Institute for Social Research
Tim Slottow, Executive Vice President and Chief Financial Officer
Gloria Thomas, Director, Center for the Education of Women
Laurita Thomas, Associate Vice President for Human Resources
In addition to the panel discussion, the Capstone Event included an interactive keynote workshop conducted by career expert Jocelyn Giangrande based on her book: What's in Your Sandwich? - 10 Sure-Fire Ingredients for Career Success. At the close of the event, participants were thanked for attending and for continuing to invest in their U-M careers.
A review and evaluation of the pilot are currently underway. Based on the review and evaluation data, a final report will be submitted in the very near future in hopes that executive leadership would consider turning the pilot into an ongoing effort.
Videos
Best Practice In Leadership Videos
What makes a good leader?  The Voices of the Staff Leadership Development Team continues to explore that question.  We seek to speak with effective leaders and ask them about lessons learned from their experiences and what they believe contributes to good leadership.
From our archive of video interviews we compile video vignettes on a variety of leadership topics.  We continue to add to the site from time to time so check back. Many of our interviewees have been drawn from past and present winners of the Work-Life Balance Champion Award. We believe you will find the videos useful. If you would like to create your own videos, this guide can help you get started.
Ideas for using the videos  
Here are three ways we imagine you might use these videos; let us know if you find other uses!
To spark self-reflection for one's own leadership development
To start a discussion in a training class or group setting of supervisors
To launch a discussion with your staff about your own leadership style
Building Trust
Observations from University supervisors on how they build trust with their employees (3:26)
Deborah Apsley, School of Information
Mark Lemak,  Department of Dermatology
Esrold Nurse, LS&A
Robin Russell,  8-C, General Surgery
David Stockson, Architectural Services
Olidia Thomas, Briarwood Family Medicine
Making an Open Door Policy Work
An open door policy can encourage openness and transparency with the employees of that company. As the term implies, employees are encouraged to stop by whenever they feel the need to meet and ask questions, discuss suggestions, and address problems or concerns with management. An open door policy serves to foster an environment of collaboration, high performance, and mutual respect between upper management and employees. It is a quality management practice and mechanism that serves to sustain employee empowerment and morale, while maintaining a vital effect on improving efficiency, productivity, growth, and corporate ethical standards. (Video length: 4:06)
Ana Austin, Ross Business School
Beth Ann Blanchard, UM Children's Center
Bob Harris, UMH Facilities Project
Mark Lemak, UMHS Dermatology
Olidia Thomas, Briarwood Family Medicine
Jessica Flaherty, UM Children's Center
In our own Words: Voices on Voices
This video provides a look at the impact of Voices on many early participants.
A Place for You: Staff Perspectives on Diversity at Michigan
A Place for You was developed by staff volunteers from Voices of the Staff to celebrate the extraordinary difference that diversity makes at Michigan by touching on universal themes of inclusion and respect.
Infinite Possibilities
An orientation video shown to new employees through 2014.
Resources
Voices of the Staff Guidelines for the Use of Social Media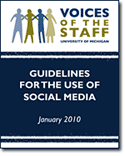 To help faculty and staff identify and avoid potential pitfalls, Voices is pleased to share Guidelines for the Use of Social Media, a product of the Voices of the Staff Technology/Best Practices team. This document is a compilation of suggested behaviors and considerations for members of the U-M community who choose to engage in social media. This document has been requested for use by dozens of peer institutions and the U-M director of Social Media has taken ownership of updating it for the university community.
Career Development Resources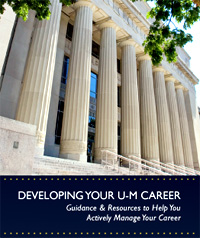 As a staff member, you contribute to the world-class status of the University of Michigan. By excelling in your position, you provide support to the university's mission and partner in its success. The Voices Career Development team created a reference guide and the Career Development Resources website to help you get the U-M career you want.
Leadership Competencies and Resource Guide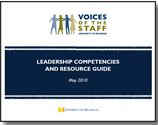 The Leadership Development Team created the Leadership Competencies and Resource Guide in 2009-10 to re-organize the University of Michigan's Organizational Competency model and develop a framework of presentation that could easily be understood and applied by U-M staff, supervisors, managers, directors and executives. In it, you will find recommended resources available both inside and outside of the university for developing or enhancing leadership competency.
Rewards and Recognition - Guiding Principles of Recognition 
The Rewards and Recognition Team created a document providing the guiding principles of recognition for consideration when creating recognition programs at the department or unit level.
Work Climate Resources at the University of Michigan
The following list of resources were compiled by the Voices of the Staff Work Climate Team.