About the James T. Neubacher Award
The University of Michigan's Council for Disability Concerns established the James T. Neubacher Award in October 1990 as a memorial to Jim Neubacher, an alumnus of the university who was a columnist for The Detroit Free Press and an advocate for equal rights and opportunities for people with disabilities. He had said that he hoped to raise a little consciousness and a little hell through his advocacy.
The award is presented annually in October during Investing in Ability Week, a series of programs and activities designed to increase awareness and understanding of people who have disabilities and disability-related issues.
The award includes a stipend provided by the Office of the President.
Sponsored by the Council for Disability Concerns, the Office for Institutional Equity and the Office of the President.
Congratulations to 2017 Award Recipient, Professor Robert Adams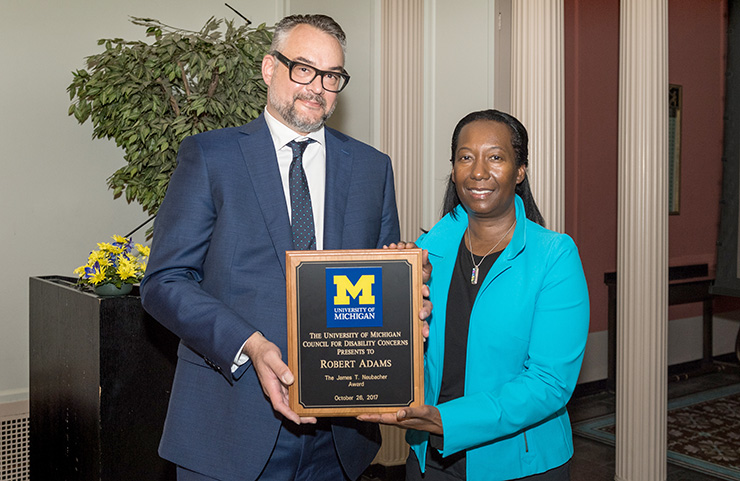 Robert Adams is the Director of the Master of Science in Design and Health, and Associate Professor of Architecture at the University of Michigan, Taubman College of Architecture and Urban Planning; the Stamps School of Art and Design; and, Chair of the University of Michigan Initiative on Disability Studies. Adams received a Master of Architecture degree, graduating with distinction, from SCI-Arc [Southern California Institute of Architecture] in Los Angeles [1994]; and, a Bachelor of Arts, majoring in Fine Arts from Saint John's University [1989].
His research on design and disability culture has been published internationally, including his most recent article, "Chromosapiens: Reconsidering Architecture and Infrastructure within Disability Culture" featured in AT: Architecture Technique [China]; "Making a Scene: A Vivid Genealogy of the Asclepius Machine", in Scapegoat: Architecture, Landscape, Political Economy: 04 Currency; and, "We Are Chromo sapiens: Cánjí rén > Cánjí Cheng Shì > Canji Jiànzhú", a book chapter in New Social Imperatives in China: Architecture & The City [Actar, forthcoming 2016]. Adams assigned the term Chromo sapiens to describe a post-human condition in the Anthropocene that dissolves the binary structure of the terms abled and disabled; and, offers a more suggestive description against the homogenizing and sanitized term universal design.
Adams' design work has been exhibited in numerous solo and group shows, including: "Ruralopolitan Maneuvers: Beijing's Urban and Rural Villages", with his collaborators, Robert Mangurian and Mary-Ann Ray for China In Flux: Mapping The Middle Zone [Shanghai]; "The Asclepius Machine" at University of California – Berkeley; "Reyner Banham Loves Beijing" for the 3rd Architectural Biennial Beijing, and venues in China, Europe and the United Sates. Upcoming exhibitions include the 2016 Lisbon Architecture Triennale with StudioWorks/B.A.S.E.beijing; and, the 2017 Bi-City Shenzhen/Hong Kong Biennale of Urbanism and Architecture.