Congratulations to Cooper Charlton, recipient for the 27th annual James T. Neubacher Award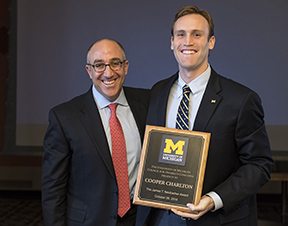 Board of Regents Chair Mark J. Bernstein (left) presents the 27th annual James T. Neubacher Award to Cooper Charlton.
Cooper Charlton is well known as the 2015-2016 Central Student Government (CSG) president and also as president of the Student-Athlete Advisory Committee. What is not so well known about Cooper is his continuous track record of support for disability issues and his empathy for individuals with differences of all kinds, both physical and emotional. After encountering a series of injuries and difficulties as a freshman that forced him to retire from athletics himself, he extended his abilities to support his fellow students and to illustrate his skill in effective action by co-founding the Wolverine Support Network in 2014, whose goal is to de-stigmatize mental health issues through confidential peer-to-peer support grounds. His immediate stimulus in establishing this organization was the suicide of a fellow student and the need for the athletic community and allies to come together in the wake of this tragedy in their midst. He continued to reach out throughout his years at U-M to endorse and support student organizations that were concerned with physical and emotional differences and he gave them a platform to voice their concerns.
Cooper took advantage of his position as a leader to press his points about disability in order to make positive changes; for example, he stressed that the U-M needed more comprehensive and accessible testing accommodation centers to create an equal environment for all, including, in particular, students with special needs. In addition, Cooper served as a volunteer in the annual Army-Navy Wheelchair Basketball Game, helping to bring about 40 student-athletes to the event and coordinating a meet-and-greet among students, Paralympians, veterans, and individuals with disabilities. 
Cooper refused to accept superficial awareness of disability issues. He said: "We drove deep into stigmas and assumptions placed on how people perceive and talk about disabilities, and worked to shift the culture towards compassion and advocacy." For these reasons, the James T. Neubacher Committee selected Cooper Charlton as its 2016 recipient of the Neubacher Award, believing that there is every indication that he will be a champion in the disability arena by continuing his outstanding efforts to improve the environment for those with special needs and effectively de-stigmatizing mental and physical disabilities.
Read more about the award in the University Record. 
About the James T. Neubacher Award
The University of Michigan's Council for Disability Concerns established the James T. Neubacher Award in October 1990 as a memorial to Jim Neubacher, an alumnus of the University who was a columnist for The Detroit Free Press and an advocate for equal rights and opportunities for people with disabilities.
The Award is presented annually in October during Investing in Ability Week, a series of programs and activities designed to increase awareness and understanding of people who have disabilities and disability-related issues.
The Award includes a stipend provided by the Office of the President.
Sponsored by the Council for Disability Concerns, the Office of Institutional Equity and the Office of the President.