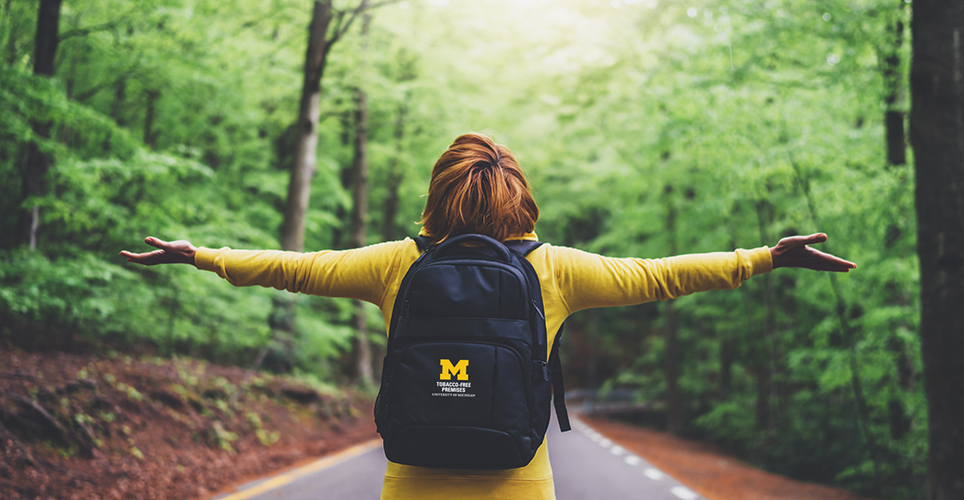 Thinking of quitting tobacco as a new year's resolution? There probably isn't a better way to improve your health in 2023.
Tobacco use, whether with cigarettes, vapes or smokeless products, can be tough to quit. When you ingest a product containing nicotine – the substance in tobacco that lights up your brain's pleasure centers – your body craves more.
Simply put: Your brain needs to break its dependence on nicotine.
Difficult but Doable
Quitting tobacco is difficult, but also doable. If you intend to use the new year as your inspiration, take the next few weeks to prepare:
Enlist an ally. U-M's Tobacco Consultation Service (TCS) offers free employee assistance. Certified counselors can help you plan a quit date, explain how your body will react to nicotine withdrawal, offer coping strategies, and provide encouragement for those tough days. Call (734) 998-6222 for help.
Join a group. U-M begins a weekly Freedom From Smoking education program for tobacco users who are ready to quit. Virtual meetings will take place each Wednesday from 1-2:30 p.m. beginning Jan. 4 for eight weeks. Call TCS to register. 
Get a virtual quit kit. This online resource from MHealthy can help you stay focused whether it's day one of quitting, or day 21. 
Stock up. Fill your kitchen with snacks that can also keep your hands occupied, such as frozen grapes; dairy products (you'll be surprised at how good they taste); popcorn; sunflower seeds; raw fruits and veggies such as apples, pears, bananas, cauliflower, broccoli and carrots; zippy hard candy including cinnamon and peppermint drops; and gum/mints.
Consider nicotine replacement. The physical effects of withdrawal can affect focus, sleep and general feeling of health ­– and put you in a foul mood. Check with your TCS counselor or doctor to see if patches, gums, sprays or other nicotine replacement products can get you over the hump.
Rise Up…
Quitting tobacco is tough, even with grit, support and tools. When you feel the urge to light up, use these real-life success stories to help you rise up instead.
… And Reap the Benefits
You'll feel some health effects of quitting almost immediately. Others will take time, and still others will continue for years after your last hit of tobacco. See for yourself!
Quitters also report mental health benefits: increased quality of life, and less depression, anxiety and stress. Remember: Tobacco doesn't cause relaxation, as some think. When you use tobacco and feel better, the nicotine is calming a physical craving it created in the first place.
Tobacco-free in 2023
Once you quit, you'll also contribute to healthier work (and play) spaces at U-M by supporting its Tobacco-Free University Premises policy. View tobaccofree.umich.edu for more information, support and tools to assist others.