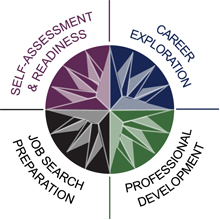 Congratulations to the 850 participants who completed the 2016-17 Career Development Passport program! 
The Career Development Passport Program is a 12-month program for regular staff on the Ann Arbor campus and Michigan Medicine designed to support their U-M career growth and knowledge of career navigation strategies.
Read the Career Development Program 2016-2017 report executive summary or view the infographic.
About the 2016-2017 Career Development Passport Program
The year-long program began in May 2016 and concluded in April 2017.
The program benefits participants seeking to advance their career development goals by providing:
Career navigation and development presentations across a variety of career/job families and classifications.
Opportunities to engage in career networking, coaching and mentoring activities.
Access to career development tools and resources.
Helpful information about career advancement and professional development at U-M.
Leadership and staff support for the program is expressed in these videos:
The Career Development Passport program is sponsored by University Human Resources with financial support from TIAA.               

For more information, contact the Career Development Passport planning team.