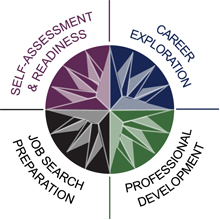 Career Development Passport Program
May 2016 - April 2017
The Career Development Passport Program is a 12-month program for regular staff on the Ann Arbor campus and Michigan Medicine designed to support their U-M career growth and knowledge of career navigation strategies.  
The program benefits participants seeking to advance their career development goals by providing:
Career navigation and development presentations across a variety of career/job families and classifications.
Opportunities to engage in career networking, coaching and mentoring activities.
Access to career development tools and resources.
Helpful information about career advancement and professional development at U-M.
A program pilot offered in 2013 included over 500 staff participants. The pilot was acknowledged nationally in 2014 by the College and University Professional Association for Human Resources (CUPA-HR) and received the Midwest Region Successful Practices Award.
The 12-month program began with a Career Development Resources and Education Fair on May 17, 2016. Workshops and monthly brown bag lunch events began in June 2016 and will continue through April 2017.
Leadership and staff support for the program is expressed in these videos:
The Career Development Passport program is sponsored by University Human Resources with financial support from TIAA.               

For more information, contact the Career Development Passport planning team.