01/2022 - This program is not currently active. If you are a supervisor or HR staff person with additional questions or needs please contact us at temps@umich.edu or 734-763-5740. 
Redeployment is the process of assessing areas that are in need of people to fulfill work and matching those needs with staff who are available to transition from their regular position to a temporary reassignment. Our goal is to keep as many people actively working as possible to avoid lapses in employment and benefits eligibility. To help coordinate this effort, please fill out the form matching your work situation. A member of our office will contact you and help the matching process. Please note, there is no charge for redeployment services provided by Temporary Staffing Services.* 
Do you have staff who are available to work on other tasks?
If you manage people who are not designated as "essential" and their regular daily job is not able to be completed remotely, they may be a candidate for redeployment. Please complete this form and a member of Temporary Staffing will contact you to discuss further. You can also direct individual staff to complete an intake form directly by clicking here. **Michigan Medicine staff should use this form to indicate their availability. 
Do you have jobs that need to be filled?
If you are an Ann Arbor campus department and have a current or anticipated need that requires additional people to complete, please complete this task form for assistance finding available re-deployable regular or temporary staff. 
Are you a U-M employee available for work due to being on furlough, RIF, or a reduction of regular hours?
Please fill out our intake form to make us aware of your availability so we can see if there is a work opportunity that might be a good fit for you. You may also want to check some of the opportunities that we currently have posted. Please note, not all work opportunities are posted so it is recommended that you also submit our intake form. 
Campus Redeployment Overview Workflow
This PDF provides an overview of redeployment for campus employees.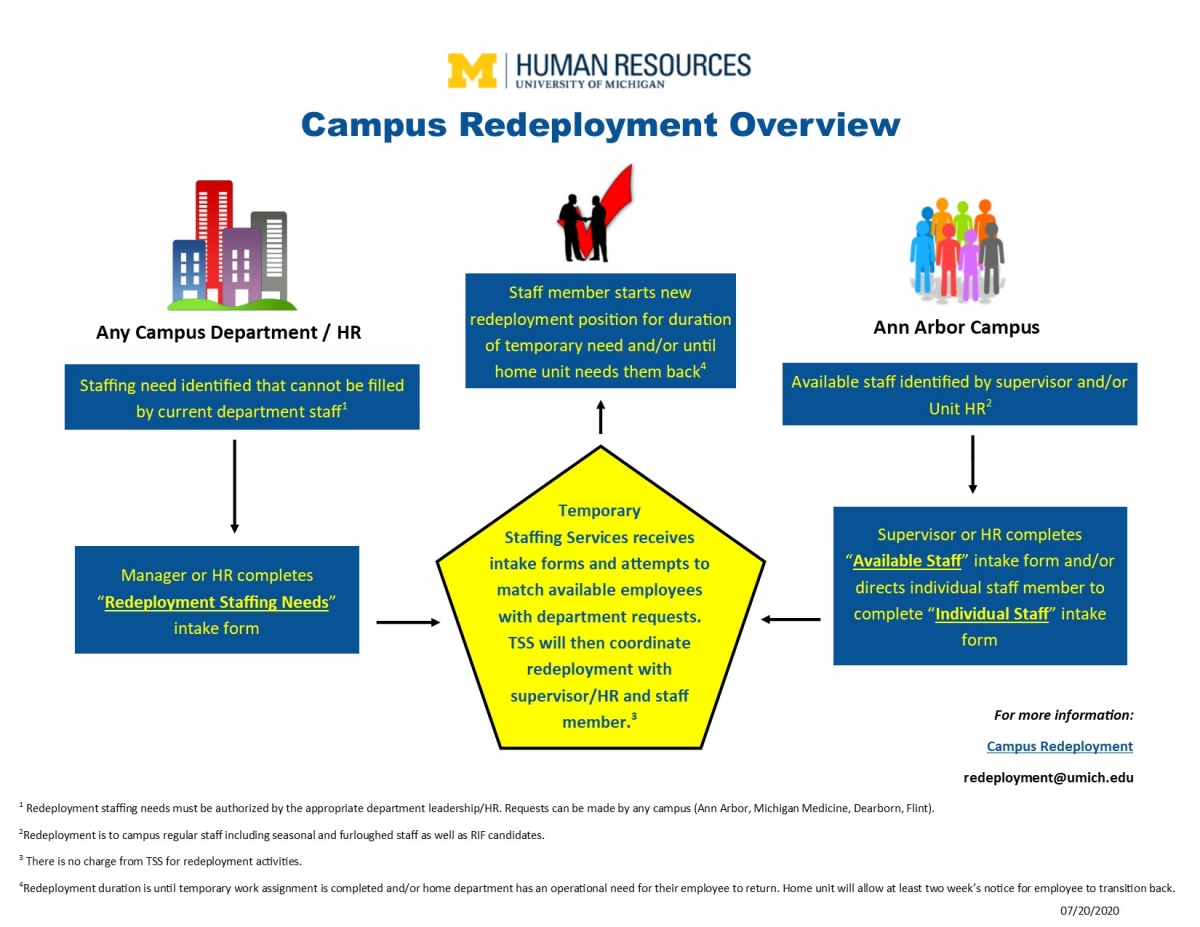 *excluding RIF candidates hired in temporary job roles.