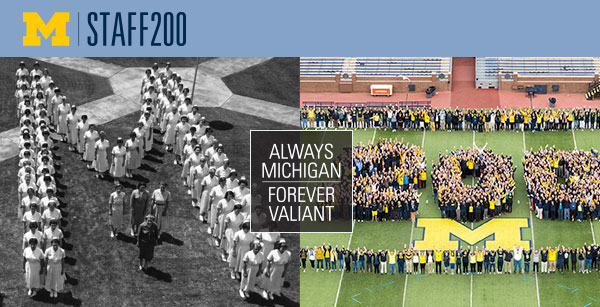 The contributions of University of Michigan staff will be the focus of the MStaff200 celebration on Tuesday, June 27, 2017 from 11:30 a.m. to 5:30 p.m., featuring exhibits and live performances extending from Ingalls Mall to the Diag. Part of the UMich200 Summer Festival, the MStaff200 event is dedicated to U-M's largest body of current and retired employees. All current and retired U-M staff members from the Ann Arbor, Dearborn, Flint campuses and Michigan Medicine and their immediate families are invited to attend. Faculty, students and members of the area community are also welcome.
MStaff200 will feature staff-curated tent displays highlighting staff contributions to campus operations through the decades — and looking to the future. Exhibits will focus on contributions to the construction and maintenance of campus buildings, health and well-being, the workplace, transportation, changing lunch and leisure patterns, communication and public safety.
The event will also include giveaways, light refreshments, a photo booth/selfie station, entertainment, opportunities for staff members to share their unique artistic or performing talents and service to the local and global community. 
President Mark Schlissel will join in the festivities with remarks from the steps of the Hatcher Graduate Library.
MStaff200 is sponsored by Voices of the Staff in cooperation with the U-M Bicentennial Coordinating Committee and generous support from Business & Finance. 
As MStaff200 concludes, activities with the Ann Arbor Summer Festival will begin along Ingalls Mall, East Washington Street and at the Power Center for the Performing Arts, making for a natural transition from daytime festivities to evening entertainment with unique entertainment and a U-M-themed movie at Top of the Park. 
For more information, or to volunteer to assist at the event, contact the MStaff200 planning team.