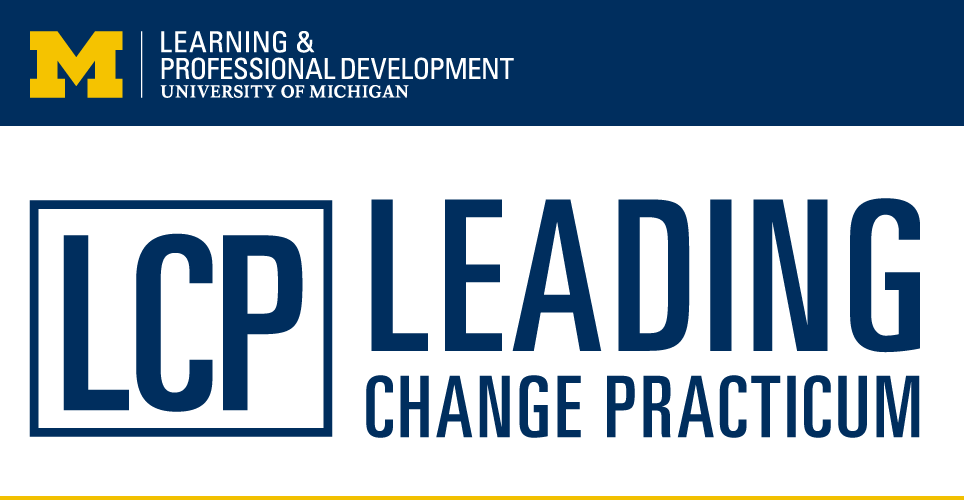 The Leading Change Practicum is a four-month program intended for mid-level managers, project managers or team leads who provide oversight for a change initiative. This is a pilot of a new program design, based on the former Advanced Leadership Program.
This action learning based-program will feature a variety of learning opportunities, including presentations by subject matter experts, self-assessments, case study reviews and more. Participants will apply these new skills to their own change management project and a final presentation.
If you think you, or someone you know, would be a good candidate for this program, please submit your application by January 24.
Application and Selection Process:
U-M staff and faculty may apply to LCP. Candidates will be asked to provide contact information so that a nomination from their direct supervisor and an additional endorsement from a department dean, director, chair or another leader familiar with the candidate's work can be secured. One of these individuals should be the sponsor of the candidate's change project.
When assembling the cohort, the selection team considers diversity of experience, representation across university units, potential unique contribution to the cohort, and the candidate's individual goals.
Candidates who are selected for the program will be notified in mid-February, 2018. The program itself begins in March and meets until June 2018.
Application Submission Deadline is Wednesday, January 24, 2018 at 5:00 PM.