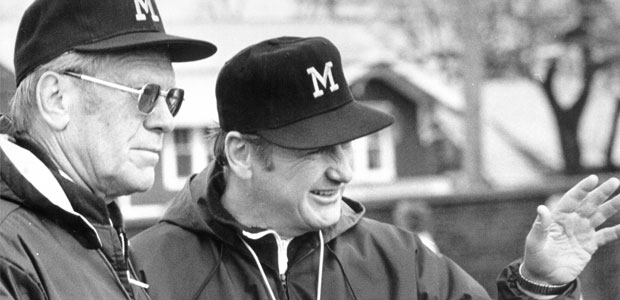 Bo Schembechler
Bo Schembechler lived to coach. He was born on April 1, 1929 in Barberton, Ohio, the son of a fireman and a mom who took her son to Cleveland Indians baseball games, on Ladies Day.
Forty years later, in the fall of 1969, he was pacing the Big House sideline as the Head Coach of the Michigan Wolverines, wearing his dark shades and oversized headset, lighting up the field with his fiery intensity.
Marge Schembechler, Glenn's sister, is the one who turned him into one of the few one-name college coaches. Marge could only say "Bobo" while trying to call him "brother," and the name "Bo" was born.
In the early 1950s, Bo received his undergraduate degree from Miami of Ohio where he was also an offensive lineman on their football team, when Woody Hayes was head coach. Soon after, he received his master's degree from Ohio State while serving as Hayes' graduate assistant for five seasons. Bo continued his coaching career with brief stints as an assistant at Presbyterian College (1954), Bowling before Green (1955) and Northwestern (1958), before returning to Miami of Ohio as its head coach in 1963.
On December 27, 1968, in less than a fifteen minute interview, as the story goes, then-U-M Athletic Director Don Canham hired Bo on a handshake. "Bo," he said, "I'm offering you the job." Bo replied, "Good."
Recalled longtime ABC-TV broadcaster Keith Jackson: "When Bo got the job at Michigan, he came home and told [his wife] Millie about it. She asked, 'What's it going to pay?' He said, 'I forgot to ask.'"
Before the 1969 Big 10 football season, Bo Schembechler was Michigan's Head Coach. The first person to visit him, he remembered vividly, was William D. Revelli, U-M's legendary band conductor. "Anything you need from me or the band," he told Bo, "all you need to do is ask."
As Bo recalls in his and Bacon's book, "I gathered the freshmen at Yost Field House, when in walks Dr. William D. Revelli, in full uniform. Marvelous man. Marvelous! I loved that guy.
"Now I'm sure the freshmen were thinking, 'What the hell is this?' These are big, young, tough guys, after all, and Revelli's a lean, short, distinguished-looking, older gentleman-a band director right out of central casting.
"But when Revelli marched up to the front of that room, he commanded those football players exactly the way he commanded his bandHe rose to the podium, tapped his baton, looked right in their eyes and said, 'John Philip Sousa called this the greatest fight song ever written. And you will sing it with respect.'
"Wow! He had those guys out of their seats, and standing up straight. And they sang that song right. I liked his speech so much, I invited Dr. Revelli back every year to teach the new guys what Michigan tradition was all about.
"God, he was beautiful."
So was Bo's first season at Michigan. In his first game against his former mentor, Woody Hayes and his OSU team, on November 22, 1969, in a packed Michigan Stadium (then, a record crowd of 103,588), #2-ranked Michigan beat top-ranked OSU 24-12. Not only that, but in his very first year as Michigan's Head Coach, Bo took his Wolverines to the Rose Bowl in Pasadena.
The night before, Bo suffered a heart attack, keeping him in the hospital during the January 1, 1970 game. He called the plays from his hospital bed. Michigan lost to USC, 10-3. Some believe they would have won had Bo been with them that day, but battling heart disease was also Bo's fate.
That game Michigan played against Ohio State University was the one, each year, Bo lived for. "Win, and you were in heaven," he wrote in his autobiography. In the "Ten Year War" with Woody Hayes, Bo's first ten seasons at Michigan, Bo came out ahead of Woody, but just barely, with 5 wins, 4 losses and 1 tie.
Bo credited Hayes with putting that fire in his belly. "His temper was, at times, inexcusable," Bo wrote. "But he shaped me and everything I do with a stamp of passion and strength."
Bo went on to become the winningest coach in Michigan's history. When he retired after the 1989 season, he said in his gravelly yet soulful voice, "Who could ask for a greater career than I've had? It's not that I've done everything in football, but I've coached at Michigan."
Epilogue
Bo Schembechler died on Friday, November 17, 2006. His death came a day before the second-ranked Wolverines were to play the top-ranked Ohio State Buckeyes in Columbus.
When Bo became Michigan's head coach in 1969, "its glory years under Fielding Yost and Fritz Crisler were long gone," wrote the New York Times, "the 100,000-seat Michigan Stadium had seldom been filled in recent seasons, and the Michigan band was finding fewer occasions to hail the maize and blue with the marching band song 'The Victors.'" Then came Bo, and a new day at Michigan.
In his first season, in the game Bo soon came to live for, Michigan beat top-ranked and undefeated Ohio State, 24-12. Michigan felt victorious, and the stadium (and more importantly, the hearts and souls of Michigan students, fans and alumni) began to fill with pride.
Bo coached at Michigan for 21 seasons, and took his team to 17 bowl games, including 10 Rose Bowls. His 194-48-5 record at Michigan earned him the title of the winningest coach in Michigan's history.
"Bo had an unmistakable twinkle in his eye, and I will miss that spirit and so much more," President Mary Sue Coleman said soon after his passing. "I am grateful for this remarkable man and all his contributions that made Michigan Michigan."
- Jan Schlain
Bo Schembechler, 1929-2006