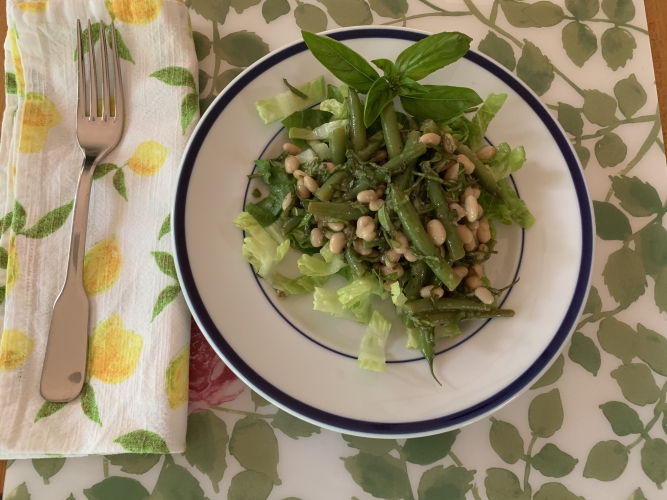 Ingredients
1 tablespoon shallot, coarsley chopped
2 tablespoons sherry vinegar, or vinegar of choice such as red wine vinegar or Balsamic vinegar
1 pound green beans, preferable the skinny French beans, cut in half
4 tablespoons extra virgin olive oil
2 tablespoons fresh lemon juice
1 teaspoon Dijon mustard
1/2 teaspoon honey*
1/4 teaspoon freshly ground black pepper, or as desired
1 1/2 cups navy beans, from 1 15 oz can low sodium drained and rinsed
1 cup Italian parsley leaves, chopped
9 cups lettuce, can be all Romaine, chopped, or 6 cups Romaine and 3 cups arugula, tossed together
1 1/2 cups fresh basil leaves, cut into very thin ribbons
*For a vegan version omit the honey and substitute agave syrup
Preparation
In the bowl of a small food processor combine the shallot and vinegar and allow to "lightly pickle" for 5-10 minutes. Meanwhile cook the green beans in rapidly boiling water until crisp-tender, about 3-4 minutes. Drain and plunge into iced water until cool. When cool drain and transfer to a large bowl. Set aside.
Add olive oil, lemon juice, Dijon mustard and honey to the shallots and vinegar and process all ingredients until fairly smooth to make the dressing. Pour the dressing over the beans in the large bowl. Add the chopped parsley and toss well. Add the basil and toss again.
To serve, measure 1 1/2 cups of lettuce onto each serving plate and top with 1 generous cup of the beans. Garnish with a sprig of fresh basil if desired.
Categories
Dairy Free
Gluten Free
Vegan
Vegetarian