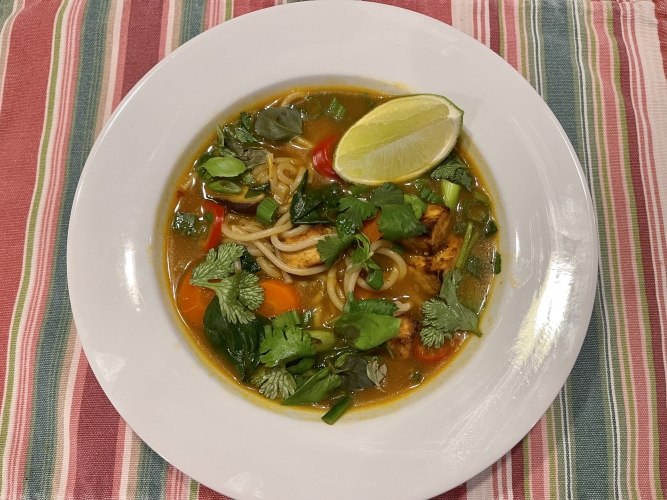 Ingredients
1 tablespoon olive or avocado oil
6 scallions (green onions) bottoms thinly sliced - dark green tops thinly sliced and reserved
1 Tablespoon fresh ginger root, peeled and finely chopped
2 teaspoons garlic, finely chopped
1 cup shiitake mushrooms, washed, stems removed and thinly sliced or your favorite mushrooms
1 cup carrots, peeled and sliced into coins
1/4 teaspoon red pepper flakes
6 cups low sodium vegetable broth
1 Tablespoon tamari or soy sauce, low sodium
2 teaspoons toasted sesame oil
4 ounces brown rice noodles
15 ounces extra firm tofu drained, pressed to remove excess moisture, diced (or see recipe for Crispy Baked Tofu
4 ounces baby spinach (about 3 generous cups)
1/3 cup fresh basil leaves
1/3 cup cilantro, chopped
thinly sliced fresno or jalapeño chili pepper
1 lime - cut into 6 wedges
Preparation
Warm oil in a soup pot over medium heat and add scallion bottoms and cook about 1-2 minutes, stirring. Add garlic, ginger and cook about a minute. Stir in mushrooms and carrots - cook an additional 3-4 minutes. Add red pepper flakes and cook another minute.
Add broth, tamari and sesame oil and bring to a boil. Reduce heat and simmer 10-15 minutes. Add noodles and cook for 2 minutes less than the time on the package directions. Add tofu (or your favorite protein) and cook for another 5 minutes. Stir in spinach and allow to just wilt. Season as desired with additional salt and pepper. Garnish with reserved green scallion tops, torn basil leaves, cilantro leaves, sliced chilis and a lime wedge.
Note: Instead of tofu you can substitute store bought rotisserie or leftover chicken, diced. This dish is also great when prepared with shrimp, thinly sliced pork or beef.
Categories
Breakfast
Dinner
Lunch
Soup
Grain
Plant-Based Protein
Vegetable
Dairy Free
Gluten Free
Quick and Easy
Vegan
Vegetarian