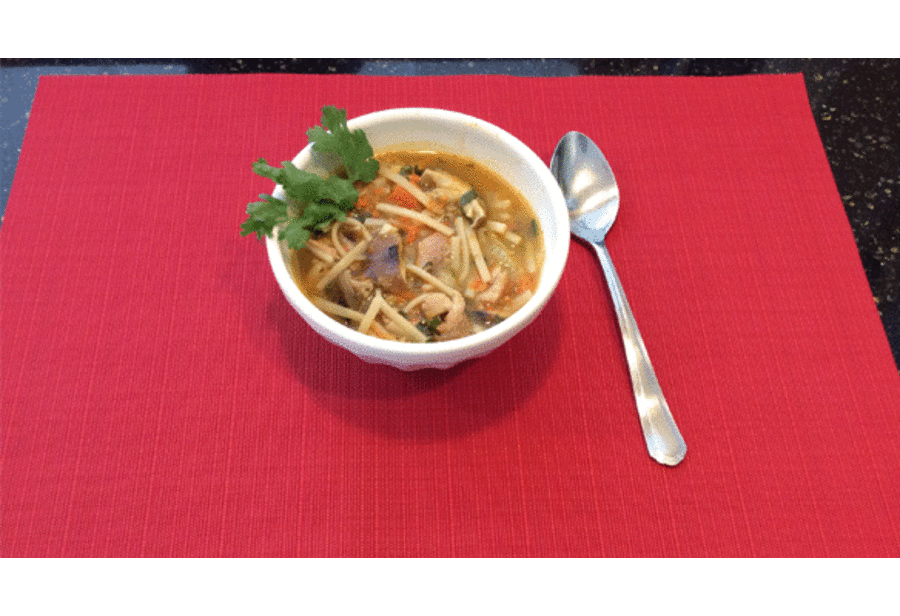 Ingredients
1 tablespoon olive oil
3/4 pound boneless and skinless chicken thighs, about 4 medium, thinly sliced width-wise into very thin strips
salt and pepper, to taste
1/2 cup shallots, thinly sliced
1 tablespoon garlic, finely chopped
1 tablespoon ginger root, finely chopped
6 inch lemon grass, ends trimmed and outer layer removed and smacked with the dull side of a chef's knife
1/4 teaspoon red pepper flakes
1 1/2 cups shiitake mushrooms, washed, stems removed and thinly sliced
1 cup carrots, julienned
6 cups chicken low sodium broth
2 teaspoons tamari soy sauce, low sodium and gluten free if desired
2 teaspoons dark sesame oil
4 ounces brown rice noodles, such as Annie Chun's whole grain angel hair rice noodles
3 cups baby bok choy, thoroughly washed and thinly sliced
1/3 cup fresh basil leaves
1/3 cup cilantro, chopped
3 tablespoons fresh lime juice
Optional garnishes: lime wedges and chili garlic sauce
Preparation
In a large soup pot, warm oil over medium-high heat. Place chicken into pot and season with salt and pepper. Cook 4-5 minutes per side or until all pieces are lightly browned. Remove to plate and set aside to cool.
Return soup pot to heat and add shallot and cook about 2-3 minutes, stirring and scraping up brown bits on the bottom. Add garlic, ginger, lemon grass and red pepper flakes and cook until fragrant, 1-2 minutes. Add mushrooms, carrots and stir to combine.
Add chicken broth, tamari and sesame oil and bring to a boil and simmer 5 minutes. With tongs, remove the lemon grass. Add noodles and cook 2 minutes. Add bok choy and chicken plus any accumulated juices and cook 5 minutes. Stir in basil, cilantro and lime juice. Taste and adjust seasonings. Serve with optional garnishes if desired.
Note: Instead of cooking the chicken in Step 1, you can substitute store bought shredded rotisserie or leftover chicken. This dish is also great when prepared with shrimp, thinly sliced pork or beef or diced tofu.
The key to this swift and delicious recipe is to have all of the ingredients measured and lined up in order that they are used ahead of time.