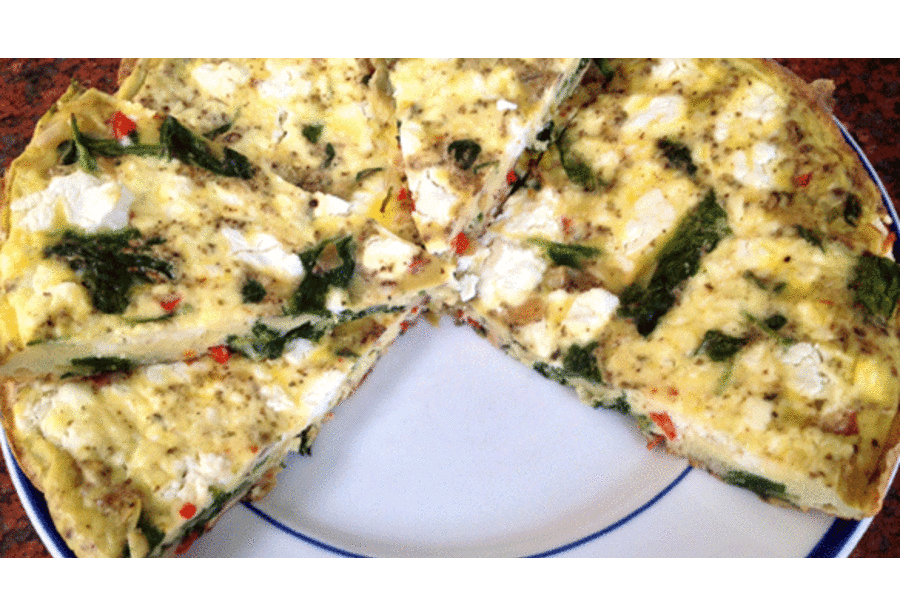 Ingredients
1 tablespoon extra virgin olive oil
2 cups chopped leeks, washed well before chopping
1 cup chopped red bell peppers
8 shiitake mushrooms, stems removed and sliced
5 ounces fresh baby spinach
1/4 teaspoon crushed red pepper flakes
8 large eggs
1/4 cup water
1/2 teaspoon marjoram or oregano, other herbs can be substituted according to the veggies you use)
1/4 teaspoon salt or to taste
1/4 teaspoon black pepper or to taste
4 ounces soft goat cheese or your favorite cheese
Preparation
Preheat oven to 425 F.
In an oven-proof, non-stick skillet, warm olive oil over medium heat. Add leeks and cook until soft, but not browned, stirring often. Add peppers and mushrooms and cook an additional 5 minutes or until softened. Stir in spinach and cook until wilted, add crushed red pepper flakes.
In a medium bowl, whisk together eggs, water, marjoram, sea salt and freshly ground black pepper. Pour egg mixture into skillet over the veggies. Scatter pieces of the goat cheese over the top and allow to cook until set slightly.
Place skillet in oven and allow to finish cooking for about 5 minutes or until eggs are set and no longer runny. Cool in skillet a bit, then transfer to serving plate. Slice into 8 wedges and serve
Leftovers can be refrigerated, covered. Reheat in microwave for about a minute if desired.
Does not meet MHealthy guidelines.
Categories
Gluten Free
Quick and Easy
Vegetarian