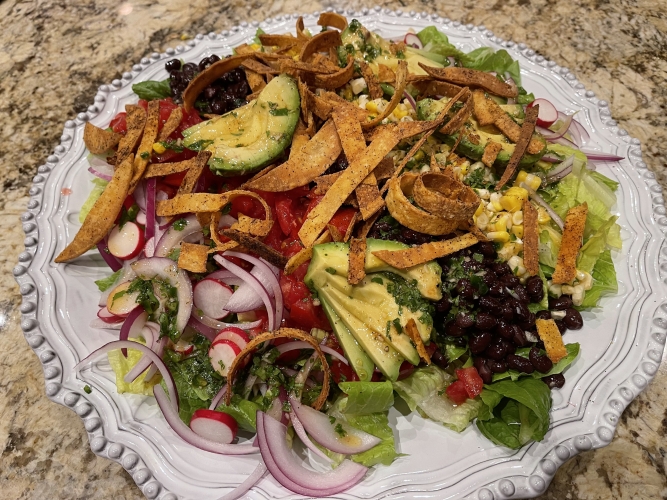 Ingredients
2 plain 6" corn tortillas
2 teaspoons olive oil
dash of salt
dash of ancho chili powder
1/3 cup fresh lime juice
1 clove garlic, finely chopped
1 Tablespoon agave syrup or honey
1/2 teaspoon ground cumin
another dash of ancho chili powder
1 jalapeño pepper, seeded and finely chopped
3 Tablespoons extra virgin olive oil
1/4 teaspoon salt
1/4 teaspoon ground black pepper
3 Tablespoons cilantro leaves, chopped
1 15.5-ounce can black beans, drained and rinsed, then put into a small bowl
1/4 red onion, thinly sliced then soaked in ice water
6 small radishes, thinly sliced then soaked in ice water
2 medium tomatoes - cored, seeded and diced
1 cup sweet corn, frozen or fresh, cooked for 3 minutes
2 heads romaine hearts - about 6 cups chopped
1 avocado, pitted, peeled and sliced
Preparation
Preheat oven to 375 F. Line a small baking sheet with parchment paper. Slice corn tortillas into thin strips about 1/4" - 1/2" wide and place into a small bowl. Drizzle the strips with 2 teaspoons olive oil and toss to coat. Sprinkle with a dash of salt and a dash of ancho chili powder - or your favorite chili powder. Toss again to coat with seasoning. Transfer the seasoned strips to prepared baking sheet and spread them out to a single layer. Bake for 5-7 minutes, then give them a little stir and return to oven to bake an additional 5-7 minutes, or until golden brown and crispy. Allow to cool then store in an airtight container until ready to use. This step can be done days in advance and can be doubled or tripled as they are great in soups or on other salads.
In a small bowl, whisk together the lime juice, garlic, agave, cumin, ancho chili powder, jalapeño and olive oil. Season with salt and pepper then add the chopped cilantro. Stir well to combine and taste to adjust seasoning as desired. Stir 2 Tablespoons of the dressing into the black beans to allow them to develop some flavor. A splash of dressing on the corn is nice too!
On a serving platter - or in separate dishes, make a base of the chopped romaine lettuce. Top with the marinated beans. Next, place the diced tomatoes, and corn creating a pretty pattern of bright and beautiful veggies! Drain the red onion slices and radishes, pat dry, and scatter with other veggies for color and crunch. Top with sliced avocados. Drizzle the dressing over the whole platter of salad ingredients then top with the reserved crispy tortilla strips. ENJOY!!
Categories
Plant-Based Protein
Vegetable
Dairy Free
Gluten Free
Vegan
Vegetarian