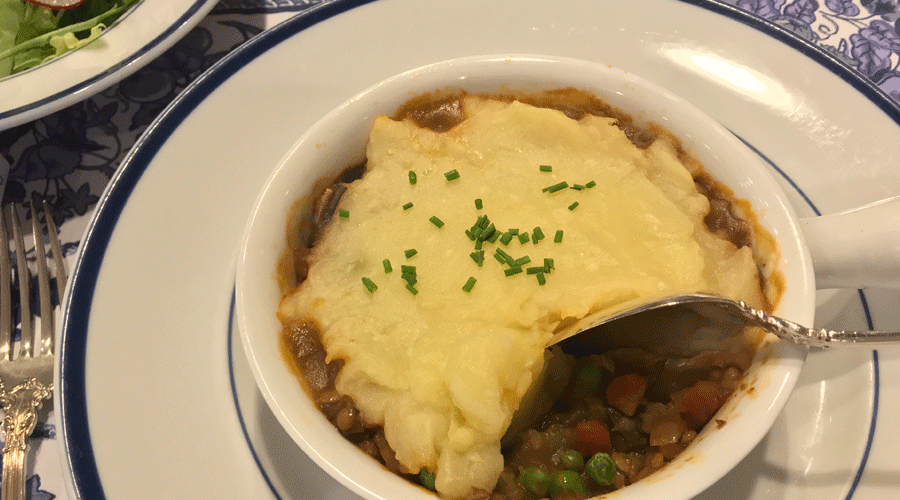 Ingredients
THE FILLING:
1 tablespoon extra virgin olive oil
1 medium onion, diced (about 1 3/4 cups)
2 cloves garlic, finely chopped (1 heaping tablespoon)
3 large carrots, peeled & diced (1 cup)
3 large celery stalks, diced (1 cup)
8 ounces button mushrooms, preferably crimini, sliced (2 1/2 cups)
2 tablespoons tomato paste
1 teaspoon fresh thyme leaves, finely chopped, or 1/2 teaspoon dried
1 teaspoon rosemary, fresh, finely choppped or 1/2 tea. dried
1/2 cup small whole green lentils,rinsed
2 1/2 cups vegetable broth, low sodium
1 tablespoon Worcestershire sauce (use vegetarian option if preferred)
1/2 cup frozen peas
THE POTATO TOPPING:
3 cups Yukon Gold potatoes, peeled and quartered
2 cloves garlic, peeled and halved
pinch salt, optional
1/4 cup vegetable broth, low sodium
1 tablespoon extra virgin olive oil
*Meets Cardiac Rehab guidelines.
Preparation
Preheat oven to 400F. Line a baking sheet with aluminum foil.
Warm olive oil in a medium/large skillet, with a fitted lid, over medium heat. Add onions and cook about 5 minutes, or until soft. Add garlic, carrots, celery, and mushrooms and cook an additional 8 - 10 minutes or until mushrooms wilt. Stir in tomato paste, thyme and rosemary.
Add lentils and vegetable stock. Stir to combine. Cover and simmer over low heat for 30 - 40 minutes or until lentils are tender. Add Worcestershire sauce and peas and season with salt and pepper as desired
Meanwhile place potatoes, garlic and pinch of salt into a saucepan and cover with enough water to be 1 inch above the potatoes. Bring to a boil, reduce heat to simmer and cook until potatoes are soft when tested with a fork. Drain potatoes in colander or strainer and return to the cooking pot over medium/low heat and mash allowing excess water and steam to evaporate. Add 1/4 cup vegetable broth and continue mashing until smooth and fluffy. Add additional vegetable broth as necessary to achieve a smooth soft potato consistency. Stir in 1 tablespoon olive oil and season with additional salt and pepper as desired.
Scoop about 1 cup of the lentil/veggie filling into each of the 4 ovenproof serving dishes or just leave the filling in the skillet and smooth to an even layer. Spoon the mashed potatoes over the top and spread to evenly cover the veggies. Place on a foil lined baking sheet and bake in a preheated oven for 15 minutes or until filling is bubbly and potatoes are golden on top. Garnish with fresh chives if desired.
Serving Ideas: Excellent served with a mixed green salad dressed with a light and simple vinaigrette!
Categories
Plant-Based Protein
Vegetable