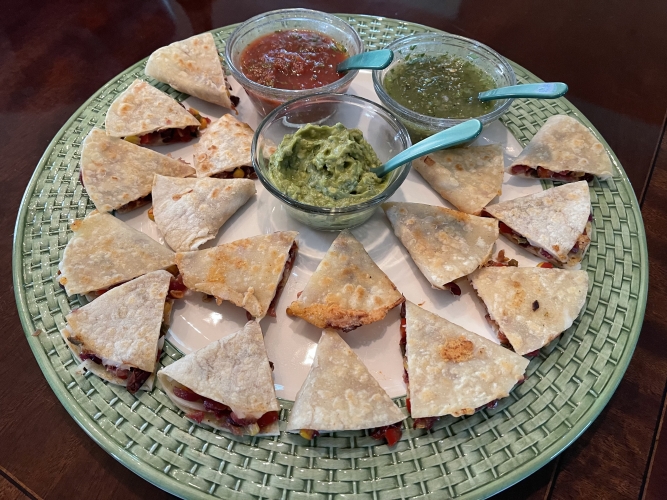 Ingredients
4 teaspoons avocado oil, divided
1 medium red onion, peeled and diced
1 medium rd bell pepper, seeded and diced
1 jalapeño pepper, seeded and diced
1/2 cup black beans, drained and rinsed
1/2 cup corn kernels (frozen or fresh)
1 teaspoon ground cumin
1/4 teaspoon chipotle pepper powder
2 Tablespoons fresh lime juice
9 corn tortillas (or flour tortillas, or your favorite grain-free wraps)
5 ounces grated or shredded cheese (goat, cheddar, Monterey Jack...your favorite melting cheese)
Preparation
In a medium skillet, warm 1 teaspoon of the oil over medium high heat. Add the diced onion and cook, stirring often until softened. Add the bell pepper and jalapeño pepper - cook until tender, about 5-7 minutes. Stir in beans, corn and spices. Cook another 3-5 minutes. Taste and season with salt and pepper as desired. Stir in lime juice and remove from heat.
Lay tortillas on a clean surface and sprinkle one-half of each tortilla with some (a little more than half) of the cheese. Top each half of the cheesy part of the tortillas with 1/4 cup of the veggie filling. Sprinkle filling with remaining cheese.
Heat another medium skillet over medium heat and add 1 teaspoon of the oil. Working with 3 tortillas par batch - place the first one in the warmed oil, filling-side-up to allow the tortilla to soften slightly. Then fold over the empty side of the tortilla over the filling side to enclose the quesadilla and create a half moon shape. Repeat with 2 more tortillas so that there are 3 in the skillet at a time. Cook until the bottoms are crispy and lightly golden browned. Carefully flip each one over with a spatula and cook until the second side is golden and crispy. Remove from skillet to a parchment lined sheet pan to hold until ready to serve. Wipe skillet to remove excess veggie bits. Repeat with remaining quesadillas.
These quesadillas are best when crisp and served right after making, but they will keep about 4 days in the refrigerator, covered. Gently reheat in a single layer in a 350 degree oven or microwave before serving. Slice each quesadilla into 3 pieces (triangles). Serve with your favorite toppings or garnishes: salsas, guacamole, sour cream, scallions, cilantro, lime wedges....
Have fun trying a variety of veggies (mushrooms, tomatoes, kale...) and different proteins (chicken, beef, seafood., tofu...) This is a great way to use up bits of veggies, cheeses and leftovers lingering in your fridge. Keep some tortillas in the freezer and jars of salsa in the pantry and you can enjoy these tasty treats anytime!