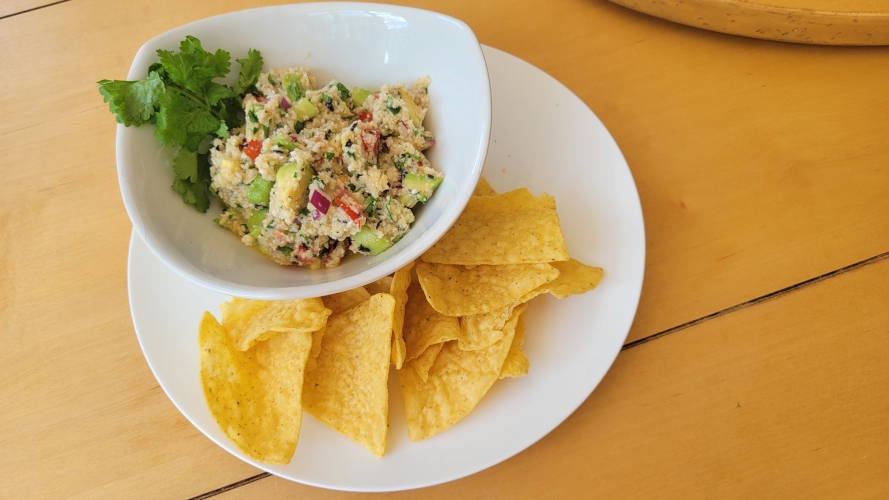 Ingredients
1 small cauliflower(leaves removed, rinsed, dried and cut into florets) about 2 lbs.
1 serrano chili, seeded and minced
1/2 cup fresh lemon juice plus lemon wedges for serving
1/4 cup extra-virgin olive oil
2 teaspoons minced nori sheets, nori flakes or granulated kelp
1 teaspoon tamari sauce, low- sodium
1-2 teaspoons hot sauce or to taste plus more for serving
Coarse sea salt and black pepper
1 ripe large Hass avocado, pitted, peeled and cut into 1/4 inch dice
1 medium tomato, cored and seeds removed and cut into 1/4 inch dice
1 Persian cucumber or 1/2 English cucumber, peeled and cut into 1/4 inch dice
3/4 cup cilantro, packed and finely chopped
1/2 cup red onion, cut into 1/4 inch dice
Preparation
In a food processor, add cauliflower florets and pulse until it resembles a riced texture. Set aside.
In a large bowl, add the serrano chili, lemon juice, olive oil, nori, tamari sauce and hot sauce. Season with salt and pepper and mix well. Add the cauliflower and mix well. Season again to taste; it should be slightly salty. Cover and refrigerate for at least 30 minutes or up to 1 day.
When ready to serve, add the avocado, tomato, cucumber, red onion and cilantro and mix well. Taste for salt and adjust as needed. Serve with tortilla chips, lemon wedges, salt and hot sauce.
Categories
Appetizer
Side Dish
Snack