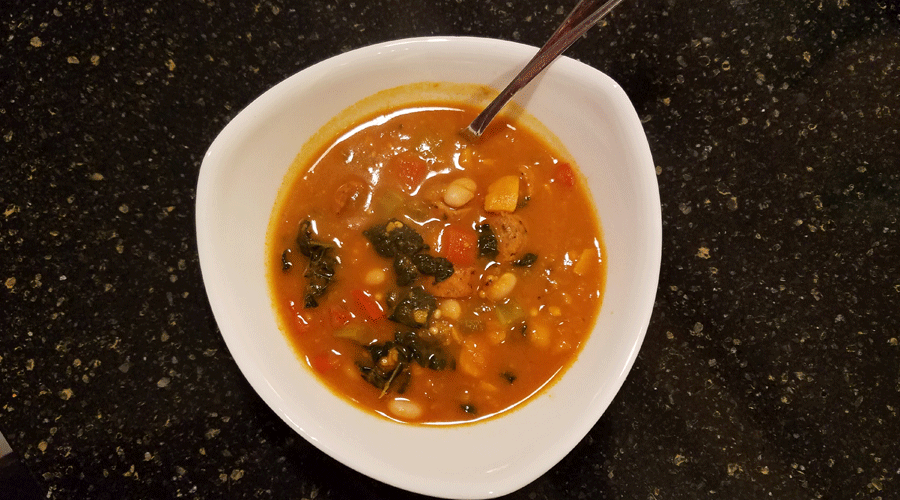 Ingredients
3/4 cup sorghum, rinsed, drained and cooked (or about 1 1/2 cups cooked) or 1/2 cup of millet or quinoa, rinsed drained and cooked
1 tablespoon avocado oil
1 pound butternut squash or sweet potato, peeled, seeded and diced
1 cup celery root, diced
1 large red bell pepper, diced
1/2 teaspoon salt
3 - 4 tablespoons red curry paste (found in the Asian food section), or to taste
6 cups low sodium vegetable broth
1 bunch kale, chopped (about 3 cups)
1 1/2 cups chickpeas or navy beans, rinsed and drained
1/4 teaspoon cayenne, optional
1 tablespoon balsamic vinegar
*Meets GI guidelines.
Preparation
In a medium saucepan, add sorghum and 2 cups of water. Bring to a simmer, covered, and cook until water is almost evaporated, about 40 minutes. Keep covered and let rest for 20 minutes. If using millet or quinoa, add to saucepan with 1 cup of water and bring to a simmer, about 15 minutes. Keep covered.
In a large soup pot, heat the oil over medium heat until shimmering. Stir in the butternut squash and cook until beginning to brown, about 5 minutes. Add the celery root, bell pepper and salt and saute another 5 minutes, stirring occasionally, until celery root begins to soften.
Add the curry paste and stir until vegetables are coated and the curry is fragrant, about 2-3 minutes.
Add the vegetable broth, bring to a simmer, and cook, covered, for 20 minutes.
Add kale, chickpeas, cooked sorghum and cayenne and bring to a simmer, cooking an additional 10 to 15 minutes or until vegetables are tender. Add balsamic vinegar and additional salt and ground pepper to taste.
Categories
Plant-Based Protein
Vegetable
Dairy Free
Gluten Free
Vegan
Vegetarian