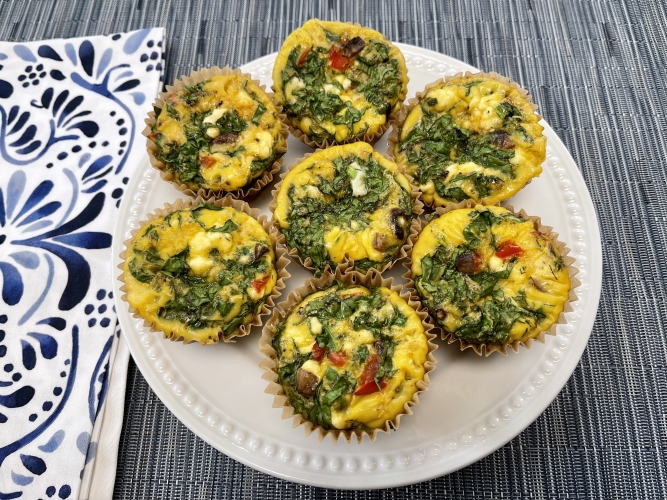 Ingredients
2 teaspoons olive oil
6 cremini mushrooms, diced - about 1 1/4 cups
1/2 large red bell pepper, seeded and diced- about 2/3 cup
3 scallions (green onions), thinly sliced
9 large eggs
2/3 cup almond milk (or milk of your choice)
1 Tablespoon fresh dill, finely chopped
dash of salt and black pepper
3 ounces feta cheese, crumbled
2 cups baby spinach, chopped
Preparation
Preheat oven to 350 F. Line muffin pan with paper muffin cups.
Warm olive oil in a medium skillet over medium heat. Add mushrooms and cook about 5 minutes, stirring occasionally. Add red peppers and cook, stirring an additional 2-3 minutes. Stir in scallions and cook another minute. Remove from heat and set aside.
Crack the eggs into a medium bowl and whisk together with milk, salt (just a bit because the cheese is fairly salty), pepper and dill. Using a small measuring cup, pour a small bit of the egg mixture into each of the muffin cups. Spoon about 1 tablespoon of the vegetables from the skillet into each muffin cup. Divide the feta cheese crumbles into each cup then top with some of the shredded spinach. Pour the remaining egg mixture over the top and fill to almost the top. With a small spoon or fork, gently stir each of the cups to mix the ingredients.
Bake for 18-22 minutes or until the eggs are set and springy to the touch. Allow to cool for a few minutes (they will shrink a bit) and serve. Store any remaining frittatas, covered in the fridge for up to 3 days or place in an airtight container in the freezer for up to 3 months. Defrost overnight in the fridge or microwave for 1-2 minutes from frozen.
Vary the veggies: chopped broccoli, diced zucchini or summer squash, seeded and chopped tomatoes, sliced asparagus, chopped kale or Swiss chard. Vary the herbs: basil, parsley, oregano, thyme, chives. If you like it spicy- add a dash of red pepper flakes. Vary the cheeses: cheddar, pepper-jack, parmesan, gouda, Swiss or goat cheese. Add extra cooked protein like chopped ham, smoked turkey, sausage, or crisp bacon.
Categories
Gluten Free
Quick and Easy
Vegetarian