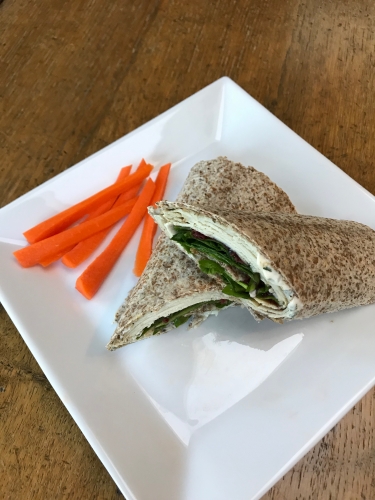 Ingredients
1 tablespoon low fat, low sodium mayonnaise
2 tablespoons low fat plain Greek yogurt
1 teaspoon chopped fresh sage laves
1 whole grain tortilla
3 ounces sliced roasted turkey breast
1 tablespoon cranberry sauce or relish
2 slices avocado
1 cup baby spinach leaves
salt and pepper - optional
Meets Cardiac Rehab guidelines.
Preparation
In a small bowl, mix together the mayonnaise, yogurt and sage.
Lay tortilla on flat surface or plate, spread with mayo mixture. Top with turkey, add cranberry sauce, avocado and spinach. Season if desired with salt and pepper. Roll to create wrap. Cut on the diagonal. Enjoy!