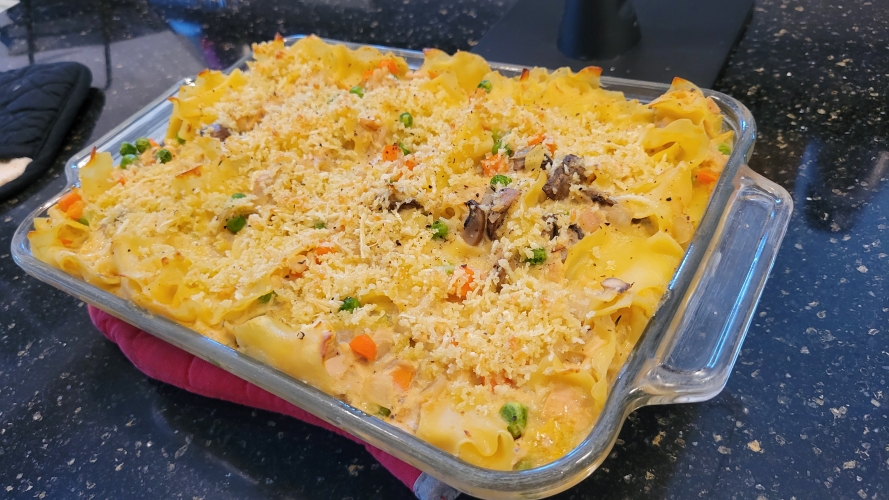 Ingredients
1 cup yellow onion, diced
3 tablespoons unsalted butter
8 oz. cremini, baby bella or button mushrooms, sliced
3/4 teaspoon salt
1/4 teaspoon ground black pepper
2 tablespoons flour, all purpose or gluten free
2 cups whole milk or favorite milk of choice, unsweetened
1 cup vegetable broth
1/2 cup plain greek yogurt, full fat or thick yogurt of choice
1 1/2 cups frozen peas and carrots mix
10 oz. wide egg noodles or noodle of choice, cooked
1 teaspoon dried mustard
1/4 teaspoon dried thyme
12 oz. chunk light tuna, drained
3 tablespoons panko breadcrumbs, regular or gluten free
3 tablespoons grated Parmesan or Pecorino cheese
1 tablespoon extra virgin olive oil
Preparation
Preheat oven to 350 degrees. In a large deep dutch oven, over medium heat, add one tablespoon of butter and saute onion until softened. Add the mushrooms to the pan, with 1/4 tsp. of salt and pepper, and continue to cook until the mushrooms have softened and most of the liquid has evaporated. Remove mushrooms and onions from the pan and set aside.
Add the remaining 2 tablespoons of butter to the pan and melt, then add the flour. Whisk and cook over medium heat until the flour bubbles and foams for about 1 minute. Add the milk, broth, dried mustard, dried thyme and cook till the sauce begins to simmer and begins to thicken. Add greek yogurt and stir to combine. Turn off heat and add the frozen peas and carrots and cooked mushrooms and onion back to the sauce. Stir to combine and season with 1/2 teaspoon salt and another pinch of pepper. Set sauce aside.
In a small bowl, prepare the breadcrumb topping by mixing the 1 tablespoon olive oil with the breadcrumbs and parmesan. Combine thoroughly. Set aside.
To the dutch oven with the sauce, add the cooked and drained noodles and the drained tuna. Break up tuna into smaller bites and mix thoroughly. Transfer the tuna mixture to a 3 quart casserole dish, then top with the breadcrumb topping.
Bake the casserole for about 30 minutes or until heated through and the top is golden brown. Enjoy! This tastes even better the next day!
Categories
Fish/Seafood
Grain
Vegetable