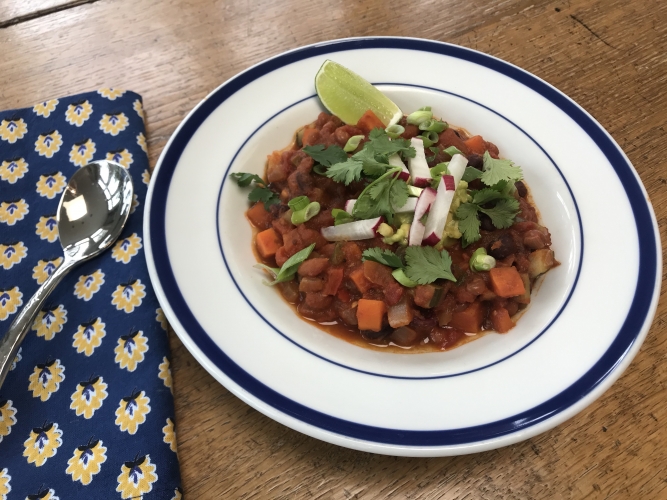 Ingredients
2 tablespoons olive oil
1 medium red onion, peeled and chopped, about 1 1/2 cups
1 cup carrots, peeled and chopped, about 4 medium carrots
1 cup celery, chopped, about 3 stalks
1 red, yellow, green or orange bell pepper, seeded and chopped
1 jalapeno pepper, seeded and finely chopped
1 tablespoon garlic,* finely chopped, 4-5 cloves
1 teaspoon ground cumin*
1/2 teaspoon ground coriander*
1/2 teaspoon chili powder* -more or less if you prefer
1 teaspoons dried oregano or 1 tablespoon fresh finely chopped
2 tablespoons tomato paste
15 ounce no added salt diced tomatoes
28 ounces no added salt crushed Italian tomatoes
1 1/2 cups cooked kidney beans, or 1 15-oz can low-sodium, rinsed and drained
1 1/2 cups cooked pinto beans, or 1 15-oz can low-sodium, rinsed and drained
1 1/2 cups cooked black beans, or 1 15-oz can low-sodium, rinsed and drained
salt (optional) and pepper to taste
Preparation
In a large soup pot warm oil over medium heat. Add onion, carrots, celery, peppers and jalapeno and cook about 6 minutes, until onions soften. Stir in garlic*, cumin*, coriander*, chili powder* and oregano, and cook until fragrant, about 1 minute. Add tomato paste and stir in with vegetables. Add diced and crushed tomatoes. Bring to a simmer and reduce to low heat. Cover and simmer for 15 minutes, stirring occasionally. *If you want to save a little time and money, instead of measuring out spices individually you could use a low sodium Chili Seasoning Mix such as McCormick although it does contain some salt and is not gluten free.
Add beans and cook an additional 10 minutes. Taste and adjust seasonings as desired. Optional: add more veggies! Chopped zucchini, summer squash or corn make delicious additions and add extra flavor, texture and nutrients. Stir in and cook another 15 minutes.
Serving Ideas : Serve with your favorite toppings such as chopped green onions, chopped cilantro, chopped avocado, shredded cheese, crushed tortilla chips, sliced radishes and lime wedges. Leftovers freeze well. Enjoy over a baked potato, on rice, over noodles, or over tortilla chips to make nachos.
Categories
Plant-Based Protein
Vegetable
Dairy Free
Gluten Free
Vegan
Vegetarian
Cardiac Rehab
GI
MHealthy