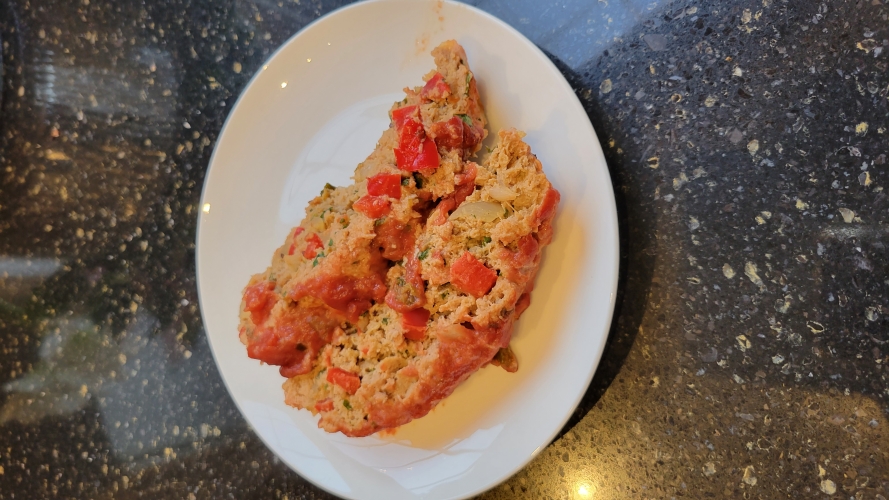 Ingredients
1 cup tomato sauce
1/2 cup mild salsa, store bought or homemade
1 medium onion, chopped
1 medium red bell pepper, chopped
4 cloves garlic, chopped
1 large egg, beaten
1/2 cup greek yogurt, plain, whole milk
1 tablespoon worcestershire sauce
2 teaspoons ground cumin
3/4 teaspoon dried ancho chili powder or sub regular chili powder
1 teaspoon salt
1/2 teaspoon ground pepper
3/4 cup cilantro, chopped
1 cup fresh or dried bread crumbs, gluten-free or whole wheat
2 lbs. ground turkey, 93%/7%
1 tablespoon olive oil
Preparation
Preheat oven to 375 degrees. Line large rimmed baking sheet with parchment paper.
In a small bowl, whisk together the tomato sauce and salsa, set aside.
In a medium saute pan, over medium heat, warm the olive oil and add the onion and red bell pepper. Cook for 5 min., stirring every couple of minutes. Add the cumin, ancho chili powder, salt and pepper and stir to combine. Cook an additional 2 minutes. Stir in the chopped garlic and saute 2 minutes longer. Remove from heat and let cool.
In a large bowl, whisk together the egg, greek yogurt, worcestershire sauce and 1 cup of the tomato/salsa mixture. Add the bread crumbs, cilantro, ground turkey and cooled vegetable mixture.
Mix and work all the ingredients together with your hands until well combined. Turn out onto parchment lined baking sheet and shape into a meatloaf, about 12" X 6" X 3" high. Pour the remaining tomato/salsa mixture onto the top of the meatloaf and spread evenly to cover .
Place in the middle of the oven and bake 50-55 minutes or until juices run clear and the top and edges are slightly browned. Remove from oven and let rest 10 minutes. Slice into 10 slices and serve.