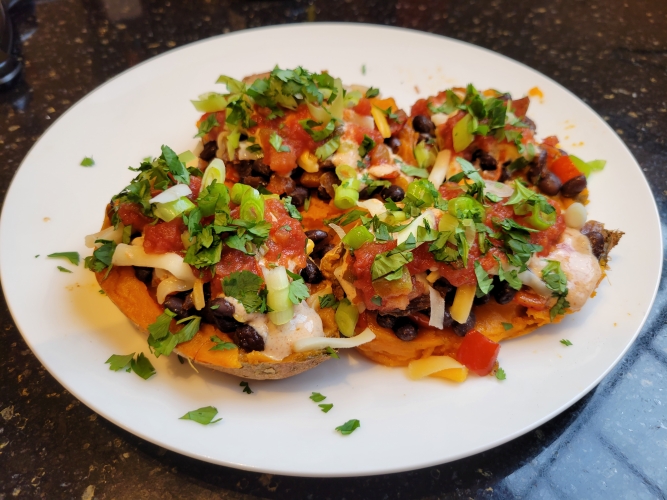 Ingredients
4 medium sized sweet potatoes, scrubbed and dried
1/2 cup Greek yogurt or light sour cream
1/2 teaspoon cumin, ancho chile powder and a pinch of salt
1 tablespoon olive oil
1 medium red bell pepper, diced
1/2 medium red onion, diced
1 teaspoon chili powder
1/2 teaspoon of smoked paprika or paprika
1/2 teaspoon cumin
pinch of salt
1 1/3 cups canned black beans, rinsed and drained
1/2 cup of mild or spicy salsa
1/2 cup of Mexican cheese blend
1/4 cup of scallions, chopped
4 tablespoons cilantro, chopped
Preparation
Preheat oven to 400 degrees. Line baking sheet with parchment paper.
Poke holes in the potatoes with fork or paring knife. Bake about 45 minutes or until potatoes are soft and cooked through.
Combine yogurt, cumin, ancho chili powder and salt in a small bowl. Mix well and refrigerate until needed.
Heat olive oil in a medium skillet over medium heat. Add the red onion and pepper and saute for 5 minutes. Add the chili powder, smoked paprika, cumin and salt to onion and pepper and throughly combine. Saute another 5 minutes.
Add the black beans, stir to combine and heat through(another 4-5 minutes).
Slice the potatoes lengthwise down the middle and squeeze or mash to open and soften inside.
Top with 2 tablespoons of Greek yogurt mixture, then 2 tablespoons of shredded cheese, 1/3 cup of black bean mixture and 2 tablespoons of salsa. Garnish with scallions and cilantro.
Categories
Plant-Based Protein
Vegetable