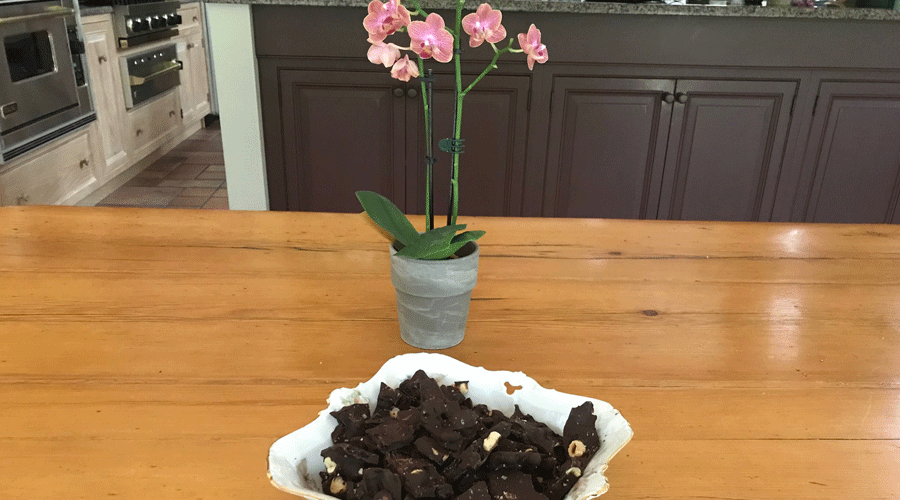 Ingredients
2 cups semisweet chocolate chips, about 3/4 pound
1/2 cup dried cherries
1/2 cup hazelnuts, lightly toasted, husks removed**
2 teaspoons orange zest
OPTIONAL: 1/4 teaspoon salt, or sea salt flakes such as Maldon
Preparation
Melt the chocolate on the stove top in a double boiler or in a microwave, stirring every 2 minutes.
Fold in the cherries, hazelnuts, and orange zest, stirring between each addition.
Pour out onto a parchment-lined sheet pan and sprinkle with the salt, if desired.
Refrigerate for at least 1 hour or until set. When set, break up into serving size pieces. This is easily done if you cover the bark with another sheet of parchment paper and give it several whacks with a small heavy pan or any heavy-duty kitchen object, such as a meat tenderizer.
**Hazelnuts are available already lightly toasted and without husks, which is a great time saver.
Notes: This makes about 18 ounces or 3 cups. Vary the nuts and fruit. Try macadamia, almonds or peanuts, and dried apricots, raisins, or cranberries!
Does not meet MHealthy guidelines.