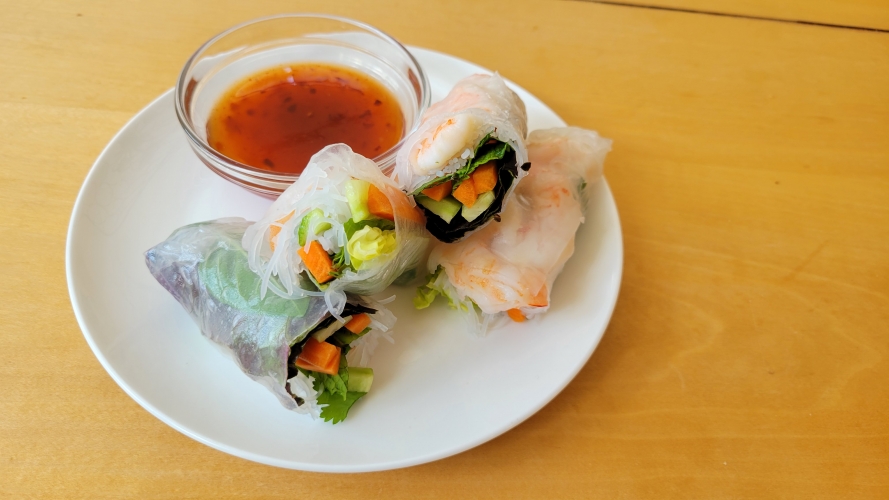 Ingredients
2 oz. Vietnamese or Thai rice noodles, cooked per package directions
6 rice paper rounds
Shallow bowl filled with hot water
1/4 cup, or 12 fresh basil or Thai basil leaves, rinsed and dried
6 medium shrimp, cooked and halved
1/2 cup julienned carrot sticks
1/4 cup, or 12 whole large fresh mint leaves, rinsed and dried
1/2 cup julienned cucumber sticks
1/4 cup cilantro springs
3 large red-leaf lettuce leaves, spines removed leaving 6 halves
1 tablespoon sugar
2 teaspoons warm water
1/4 cup rice vinegar
1 teaspoon Sriracha chili sauce
1 tablespoon lime juice
1 teaspoon fish sauce
1 clean, slightly damp kitchen towel
Preparation
Line up ingredients in small bowls before beginning to make rolls. Starting with shallow bowl of hot water, place a rice paper round inside and soak between 15 to 20 seconds, or until rice round is pliable and pattern on the round is barely visible. Remove and place on clean, slightly damp kitchen towel.
Place 2 basil leaves on the inner edge of the rice round, about 1 inch from the edge and leaving about 1 inch on each side. Top with approximately 1/4 cup cooked noodles. Top with 2 carrot sticks, 2 cucumber sticks, then 2 mint leaves and then the cilantro springs. Fold one piece of lettuce leaf and place on top of pile. Next to the pile, place 2 shrimp halves. Bring the edge over filling and tuck underneath. As you continue to roll, fold in the sides. Finish rolling, repeat with the other rolls and reserve under a damp paper cloth or paper towel.
Dipping Sauce: In a small bowl, dissolve sugar in warm water. Combine with other sauce ingredients and chill until ready to use.
Categories
Appetizer
Lunch
Sauce/Dressing
Snack