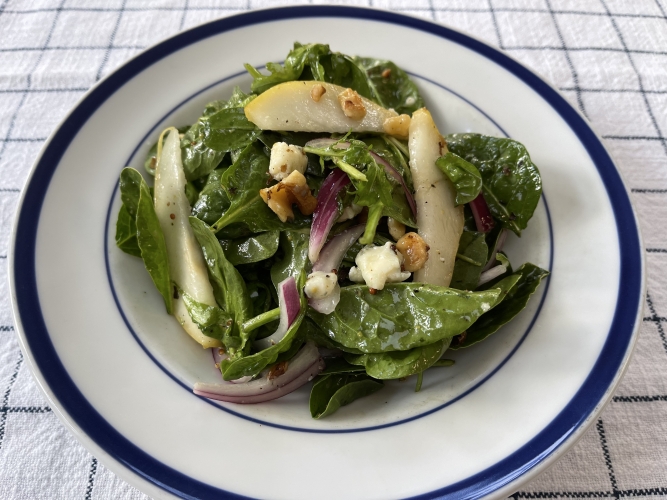 Ingredients
1/3 cup raw walnuts, coarsely chopped
1 teaspoon whole-grain dijon mustard
1/3 cup red onion
1 Tablespoon honey
1 Tablespoon apple cider vinegar
dash of salt, if desired
1/4 teaspoon black pepper, freshly ground if possible
2 Tablespoons extra virgin olive oil
4 cups baby spinach, washed and dried
4 cups arugula, stems trimmed, washed and dried
1 ripe pear, such as Anjou, Bartlett, Bosc or your favorite
1 ounce Roquefort cheese (or your favorite blue cheese), crumbled
Preparation
Place walnuts into a small skillet over medium heat and cook until fragrant and lightly toasted, about 3 minutes. Remove from heat and allow to cool. Place the sliced red onion into a bowl of ice water.
In a salad bowl or large mixing bowl, stir together the mustard, honey, vinegar, salt and pepper. Gradually add the olive oil. Add the spinach and arugula. Drain the onions and pat dry then add to the greens. Toss to combine.
Cut pear into quarters, remove core and cut into thin slices. Add the toasted walnuts and blue cheese and toss. Add the pear slices and toss gently. Taste, adjust seasoning and serve.
Categories
Gluten Free
Quick and Easy
Vegetarian