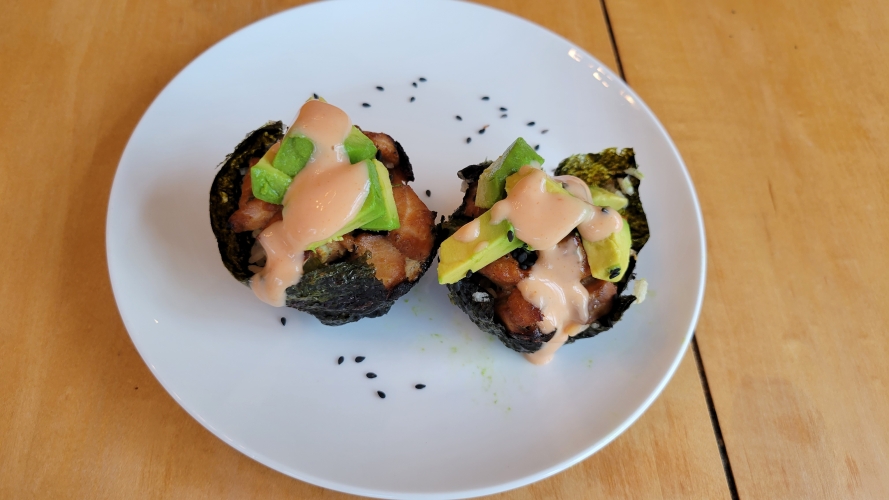 Ingredients
3 Sheets nori paper
1 1/2 cups cooked sushi rice, cooled
1 lb. salmon, skin removed and cubed small
2 tablespoons sesame oil
1 tablespoon low sodium tamari or soy sauce
1 tablespoon honey
2 scallions, sliced
1/2 teaspoon each of garlic powder, onion powder, chili powder, paprika, dried oregano
salt to taste
Spicy mayo: 1/8 cup Mayo, 2 teaspoons Sriracha sauce or other hot sauce, 1 teaspoon honey
Toppings: 1/2 avocado, diced small, 2 teaspoons black sesame seeds
Preparation
Preheat oven to 400 degrees. Using kitchen shears or scissors, cut your nori sheets into four equal squares.
In a medium bowl, add the sesame oil, tamari sauce, honey, garlic powder, onion powder, chili powder, paprika and dried oregano and combine. Add the cubed salmon and thoroughly coat. Marinate 30 minutes or up to 4 hours.
Using a 12 cup muffin pan, place a nori sheet over each cup. Add a heaping tablespoon of rice and spread out slightly, pushing down gently to center the rice in the middle with the edges of the nori coming up along the sides of the cup. Place about 4-5 cubes of salmon into each slot. Transfer the pan to the oven and bake for 15 minutes.
In a small bowl, mix together the mayo, Sriracha sauce and honey.
Remove muffin pan from oven and allow to cool slightly and top with the avocado, sesame seeds, scallions and a drizzle of spicy mayo.