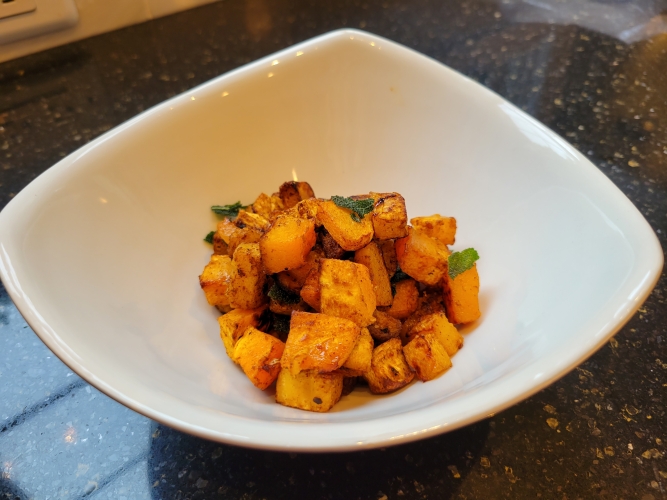 Ingredients
1 3lb. butternut squash, peeled, seeds scooped out, and cut into 3/4 inch cubes(about 4 cups)
1 tablespoon extra virgin olive oil
1 tablespoon maple syrup
1/2 teaspoon cinnamon
1/2 teaspoon paprika
1/2 teaspoon salt
1/4 teaspoon cayenne pepper
10 fresh sage leaves, washed and dried
2 teaspoons olive oil
Preparation
Heat oven to 425 degrees. Line a large baking sheet with parchment paper.
In a medium bowl, toss the butternut squash cubes with extra virgin olive oil, maple syrup, cinnamon, paprika, salt and cayenne pepper. Thoroughly coat the squash pieces. Arrange in a single layer on the baking sheet.
Bake in oven for 20 minutes. Stir the butternut squash cubes, then return to oven another 10-15 minutes or until fork tender and lightly browned all over.
While squash is baking, add 2 teaspoons olive oil to medium saute pan and heat to medium. Add sage leaves in single layer and saute until lightly brown and then flipping over to brown on the other side. Remove to paper towel lined plate to cool.
Serve butternut squash sprinkled with crushed crispy sage leaves.
Categories
Dairy Free
Gluten Free
Quick and Easy
Vegan
Vegetarian