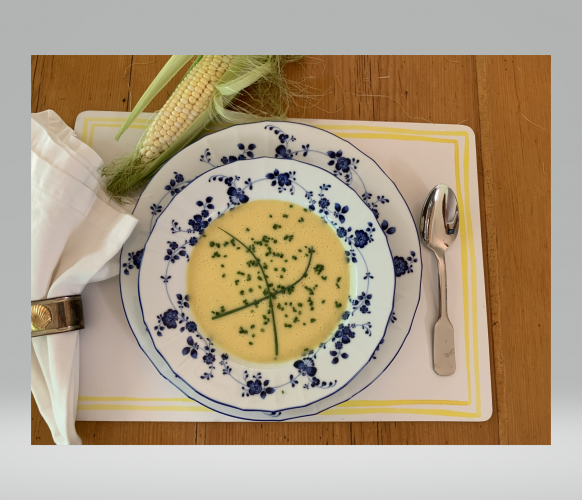 Ingredients
1 tablespoon extra virgin olive oil
1 medium leek - white and light green part, washed and sliced
1 clove garlic, finely chopped
5 ears fresh sweet corn on the cob
6 cups filtered water
salt, optional
hot sauce to taste, optional
3 tablespoons fresh chives, garnish
Preparation
Cut kernels from cobs with a sharp knife, reserve cobs.
In a large soup pot, warm olive oil over medium heat.
Cook leeks and garlic in olive oil in a large heavy saucepan over medium heat, stirring occasionally, until onion is softened, about 5 minutes. Add corn and cobs and water, and simmer, uncovered, 20 minutes. After 20 minutes, remove corn cobs to a bowl and allow to drain as soup cools for easier blending. Discard the cobs, and put any accumulated liquid from the cobs back into the soup pot before blending. If you happen to have any extra cobs they would probably add more flavor - or use when making veggie broth as well.
Purée corn mixture in batches in a blender until very smooth (use caution when blending warm liquids). Force soup through a fine-mesh sieve into a bowl, discarding solids.
Season as desired with salt and hot sauce. Garnish with fresh chives.
Categories
Appetizer
Dinner
Lunch
Soup
Dairy Free
Gluten Free
Quick and Easy
Vegan
Vegetarian