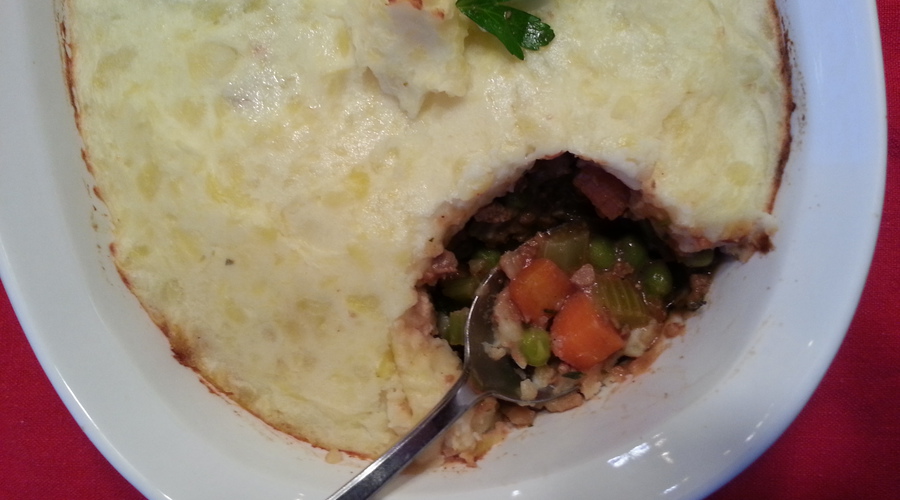 Ingredients
2 pounds Yukon Gold potatoes, peeled and cut into large dice
~3 tablespoons extra virgin olive oil, divided
1 large onion, diced
2 cloves garlic, minced
3 celery stalks, diced
3 medium carrots, diced
4 ounces crimini mushrooms, sliced
1 pound chicken thigh without skin or bone. All visible fat removed. Cut into 1-inch cubes
1 1/2 tablespoons cornstarch, divided
Salt and ground black pepper, as desired
1 pound turkey breast, boneless and skinless, ground
1/2 teaspoon chipotle pepper or more to taste or regular chili powder
2 1/2 cups reserved cooking liquid from the potatoes
1 tablespoon fresh thyme leaves, stems removed, chopped
1/4 cup fresh Italian parsley, finely chopped
1 tablespoon tomato paste
2 teaspoons worcestershire sauce or more to taste
Salt and ground black pepper, as desired
1/2 cup nonfat plain yogurt or kefir
1 1/2 cups frozen peas
Preparation
Preheat oven to 425 F. Place potatoes into a medium saucepan and cover with 2 inches of lightly salted water. Bring to a simmer and cook until fork tender, about 20 minutes. Drain potatoes when cooked, reserving 2 1/2 cups of the cooking water.
While the potatoes are cooking, heat a large heavy-duty skillet over medium heat. Add 1 tablespoon of the olive oil and saute the onions, garlic, celery, and carrots until tender, about 10 minutes. Add the mushrooms and cook an additional 5 minutes. Transfer veggies to a 2 quart baking dish.
Return the skillet to the heat and add 2 teaspoons of olive oil. Toss chicken thigh meat in the 1 1/2 teaspoons of cornstarch, and some salt and pepper. Saute thighs until golden, about 5 minutes. Add to veggies in baking dish.
Add turkey meat to skillet along with the chili powder and cook, breaking up any large pieces, for 5 minutes. Whisk 1 tablespoon of cornstarch into the reserved potato water and add to the skillet. Stir in the thyme, parsley, tomato paste, worcestershire sauce, and peas. Bring to a boil, stirring. Pour mixture into the baking dish with the veggies, stir to evenly disperse the ingredients.
Mash potatoes, adding 1/2 cup of yogurt or kefir, and sea salt to taste. Top ingredients with potatoes starting around the edges to seal in the juices as the pie cooks. Drizzle the potatoes lightly with olive oil.
Cook in the middle of the oven for 20 - 30 minutes or until some of the escaped juices are bubbling.