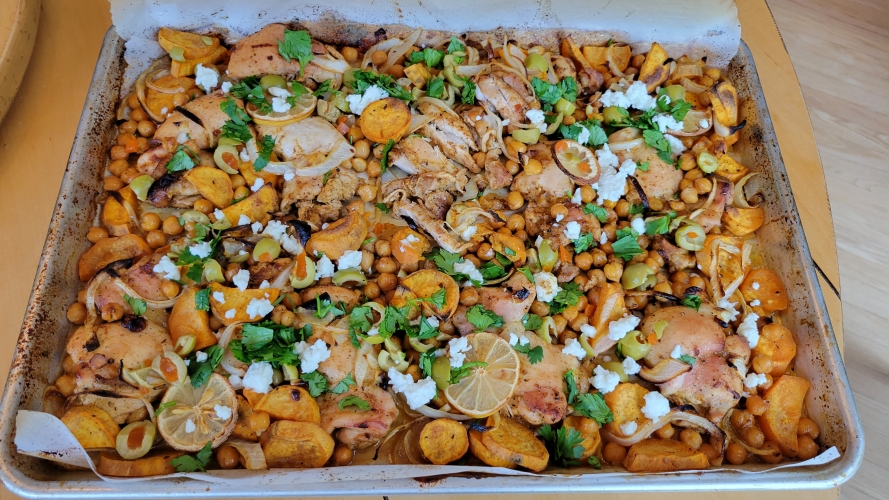 Ingredients
2 pounds boneless chicken thighs, rinsed and patted dry
2 lemons, zest and juice from 1 plus 1 sliced
1/4 cup extra virgin olive oil
2 tablespoons Harissa seasoning
1 tablespoon honey
1/2 teaspoon salt
1/4 teaspoon ground pepper
2 large sweet potatoes, peeled and sliced into 1/2 inch moon shapes
1 medium sweet onion, sliced
1 15 oz. can of chickpeas, rinsed and drained
1/4 cup crumbled feta
1/3 cup green olives, chopped
1/3 cup cilantro or mint, or both, chopped
Preparation
Preheat oven to 450 degrees.
In a large bowl, whisk together the lemon zest, juice, harissa seasoning, honey, olive oil, salt and pepper. Add the chicken thighs and coat evenly with marinade, Add the sweet potatoes, onions and chickpeas and toss well to coat all ingredients.
On a rimmed baking sheet, lined with parchment paper, arrange the chicken in an even layer. Distribute the vegetables over and around the chicken thighs, covering all the parchment. Add the lemon slices to the top and transfer to oven.
Roast for 40-45 minutes on the bottom rack, tossing halfway through cooking until the chicken is cooked through and the potatoes are golden. Sauce should be mostly evaporated and everything should be light brown. Remove from oven.
To serve, sprinkle green olives, cilantro/mint and feta on top. Enjoy with basmati rice on the side!