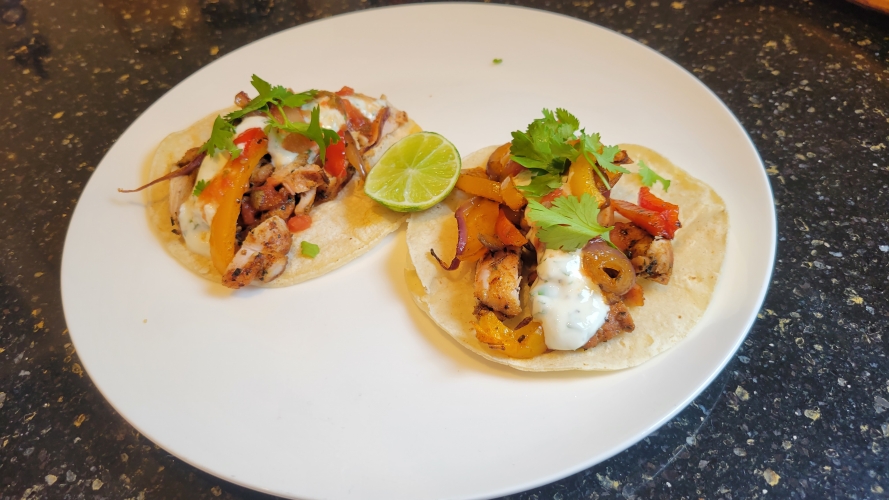 Ingredients
1 teaspoon chili powder
1 teaspoon ancho chili powder
2 teaspoons ground cumin
2 teaspoons dried oregano
1 teaspoon smoked paprika
salt and pepper to taste
3 tablespoons olive oil
2 lbs. boneless, skinless chicken thighs, rinsed and patted dry
1 red bell pepper, cut into strips
1 yellow bell pepper, cut into strips
1 orange bell pepper, cut into strips
1 medium red onion, cut into wedges
6- 8 inch corn tortillas, warmed
Lime crema: 1/2 cup whole milk greek yogurt
1 clove garlic, minced
1 teaspoon lime zest
1-2 tablespoons lime juice or as needed for consistency
2 tablespoons cilantro, chopped
salt and pepper to taste
lime wedges and cilantro springs for garnish
Preparation
Preheat oven to 425 degrees. Line two large baking sheets with parchment paper.
In a large bowl, combine chili powders, cumin, oregano, paprika, 1 teaspoon salt and 1/2 teaspoon ground pepper. Add the olive oil and combine.
Add chicken, bell peppers and red onion into the bowl and thoroughly coat with spice mixture. Place chicken pieces, bell peppers and onion mixture in a single layer onto the prepared baking sheets. Use 2 baking sheets as you want enough space for everything to brown. Overcrowding will cause everything to "steam".
Bake in the oven, racks positioned at the top and one at the bottom of the oven, for 30 mins. Switch baking sheets at the halfway point to brown evenly. Cook until chicken is completely cooked through(165 degrees) and vegetables are crisp tender.
Meanwhile, make the crema: In a small bowl whisk the greek yogurt, lime zest, lime juice, garlic, cilantro, salt and pepper until combined. Warm or toast tortillas. Add the chicken/veggie mixture to torilla. Drizzle with lime crema. Add a spritz of lime juice and a cilantro sprig. Enjoy!