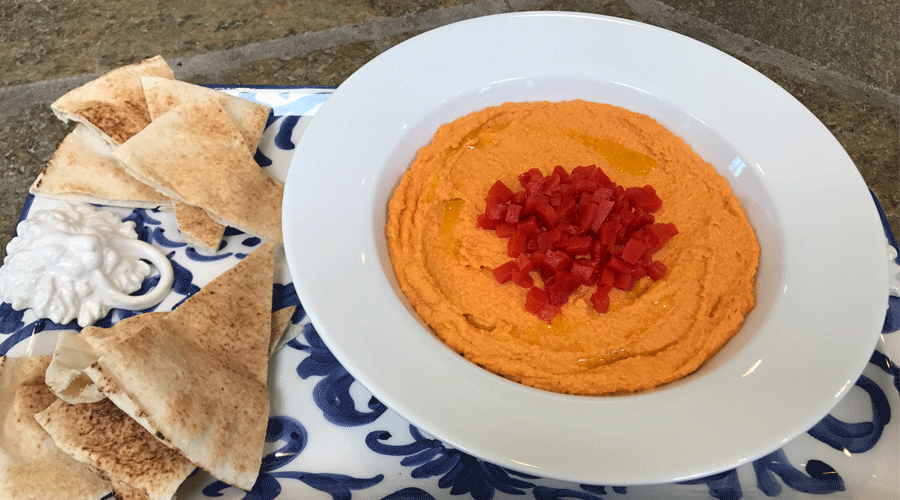 Ingredients
15 ounce can no salt added chickpeas, drained and rinsed
1/2 cup roasted or jarred, rinsed, red pepper, chopped
2 tablespoons tahini
2 tablespoons lemon juice
1 tablespoon garlic infused olive oil
1 tablespoon olive oil, not infused with garlic
1/2 teaspoon salt, or as desired
1/2 teaspoon paprika
1 tablespoon water, if necessary
Pepper and paprika to taste
2 tablespoons roasted red pepper, for garnish
*Meets Low Fodmap guidelines.
Preparation
In a food processor add the chickpeas and process until finely ground. With a rubber spatula scrape down sides, repeat processing for an additional 30 seconds. Add 1/2 cup coarsely chopped red bell peppers, process until finely ground. Scrape down sides of bowl and process again for about 30 seconds. Add tahini, lemon juice and both types of olive oil, salt (optional), and paprika. Blend until smooth and creamy, about 2 minutes, scraping down side
Taste and adjust seasoning and add water as needed for preferred consistency.
Transfer to a serving dish. Spoon additional red bell pepper on top for garnish.
Cover and refrigerate for 1 hour for the flavors to develop.
Categories
Appetizer
Side Dish
Snack
Plant-Based Protein
Vegetable
Dairy Free
Vegan
Vegetarian