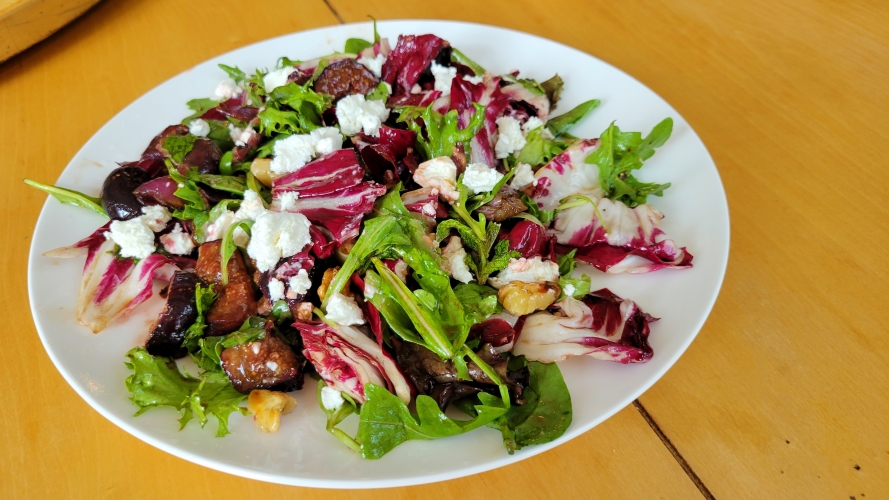 Ingredients
2 1/2 tablespoons balsamic vinegar
2 tablespoons pomegranate juice
1 1/2 teaspoons honey
1/2 teaspoon salt
1/4 teaspoon ground black pepper
5 tablespoons extra virgin olive oil
12 fresh figs, sliced in half
2 medium red onions, sliced into wedges
1/2 head radicchio, core removed and leaves roughly torn, washed and spun dry
3 cups arugula, washed and spun dry
1/2 cut mint leaves, torn
1/3 cup walnut halves, toasted
4 oz. soft goat cheese, crumbled
2 teaspoon lemon juice
1 garlic clove, crushed
Preparation
Preheat oven to 425 degrees. Line two baking sheets with parchment paper.
In a medium bowl, whisk together the vinegar, pomegranate juice, honey, garlic, 1/2 teaspoon salt and 1/4 teaspoon ground pepper. Slowly pour in olive oil, whisking the whole time until combined and smooth.
In a medium bowl, add figs and 2 tablespoons of the dressing. Toss well and transfer, in a single layer, cut side up,to one of the baking sheets. In the same bowl, add the onions and drizzle 2 tablespoons of the dressing over them. Toss well to combine and transfer, in a single layer, to the other baking sheet. Sprinkle each pan lightly with salt and pepper. Both baking sheets can go in the oven at the same time; the figs need 20 minutes, or until softened and caramelized, and the onions need 25-30 minutes, tossing once during baking, until they have softened and started to brown. Remove from oven and set aside to cool.
Put half the roasted onions into a large bowl along with the radicchio, arugula, mint, walnuts, sprinkle of salt and a grind of black pepper, and half of the remaining dressing. Toss well to combine, then transfer half the salad to a large serving platter or individual plates. Top with half the goat cheese and half of the figs, cut side up. Repeat with the remaining salad, goat cheese, figs and onions. Drizzle the remaining dressing and the lemon juice over the top and serve.