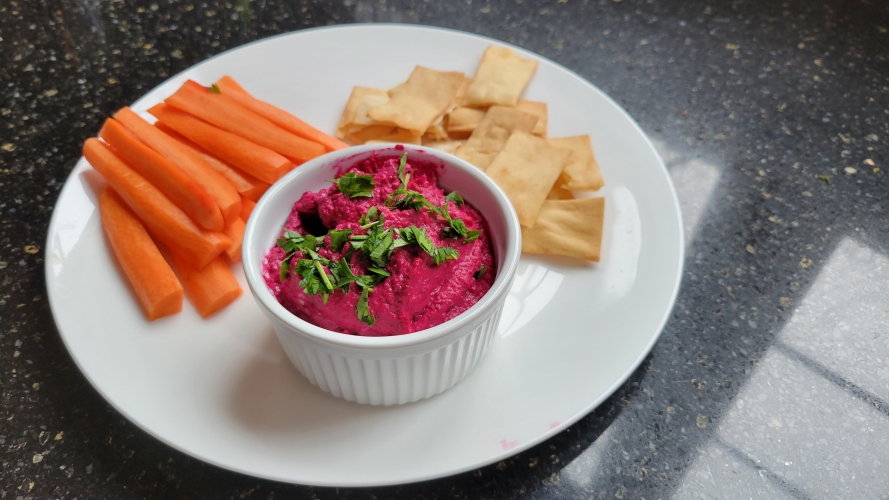 Ingredients
6 oz. fresh red beets, trimmed and scrubbed
15 oz. can chickpeas, rinsed and drained
1/3 cup tahini, well mixed
1/4 cup fresh lemon juice
1/4 cup goat cheese
1 garlic clove, smashed
1 teaspoon salt
1/2 teaspoon fresh ground pepper
1/4 teaspoon ground coridander
1/8 teaspoon cayenne
1 tablespoon extra virgin olive oil
Preparation
Preheat oven to 425 degrees. Wrap beets tightly in parchment lined piece of foil and place on a baking sheet. Roast until the tines of a fork slide easily into the center of the beet, about 60 minutes. Let sit until cool enough to handle.
Meanwhile, process chickpeas, tahini, lemon juice, goat cheese, garlic, salt, pepper, coriander and cayenne in a food processor until smooth.
Using a paper towel or your fingers, rub or peel beet to remove skin(it should slip off easily and any staining to your hands will be temporary). Cut into 6 pieces; add to food processor and process until mixture is smooth, about 2 minutes. Scrap down sides. Add the olive oil as machine is running. Scrap down sides again and taste and season for salt, if needed and pulse again.
Transfer hummus to a shallow bowl and top with fresh mint. Can be made 4 days ahead.
Categories
Appetizer
Sauce/Dressing
Snack
Plant-Based Protein
Vegetable
Gluten Free
Quick and Easy
Vegetarian