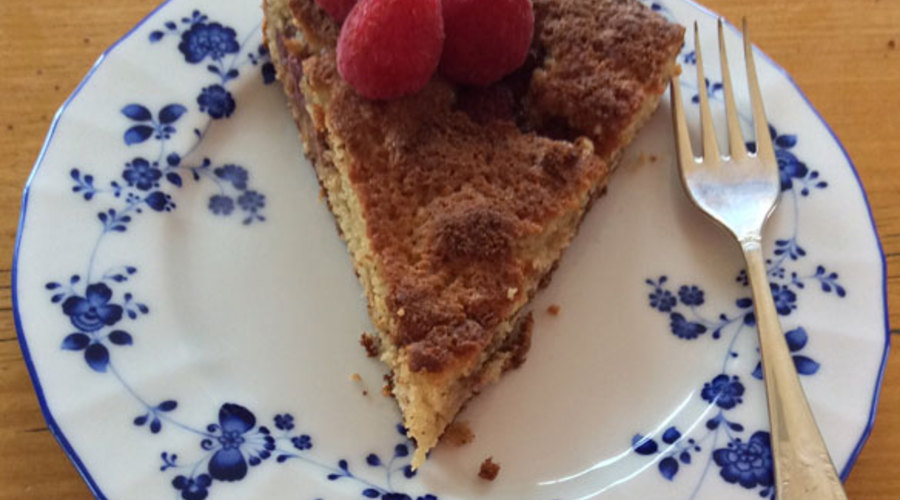 Ingredients
3/4 cup all-purpose flour
1/4 cup barley flour
1/2 teaspoon baking soda
1/2 teaspoon baking powder
1/4 teaspoon salt
4 tablespoons unsalted butter, softened
2/3 cup granulated sugar
1/2 teaspoon vanilla extract
1 large egg
1/2 cup buttermilk, reduced fat
1/4 cup almonds, chopped and lightly toasted
1 pint fresh raspberries, about 6 oz.
2 tablespoons dark brown sugar
1/2 teaspoon ground cinnamon
Preparation
Lightly oil a 9 to 10-inch round cake pan and line the bottom with parchment paper. If possible use a springform pan. Preheat oven to 400 F.
Combine the flours, baking powder, baking soda, and salt into a medium-size bowl and whisk well.
Using a mixer with a paddle, beat butter and sugar together at medium-high speed, until light and fluffy, about 3 minutes. Add vanilla and egg and beat until well combined.
With the mixer on low speed, add the 1/3 of dry ingredients then 1/3 of the buttermilk. Continue to add the wet and dry ingredients in this order, ending with the dry ingredients.
Pour batter into cake pan, smoothing out the top. Sprinkle with the almonds, then evenly distribute the raspberries. Combine the cinnamon and dark brown sugar and sprinkle on top.
Bake until cake is golden and a wooden toothpick inserted into the middle comes out clean, about 25 to 30 minutes. Cool 10 minutes in pan, then turn out and allow to cool on a rack.
This recipe does not meet MHealthy Nutrition Guidelines.