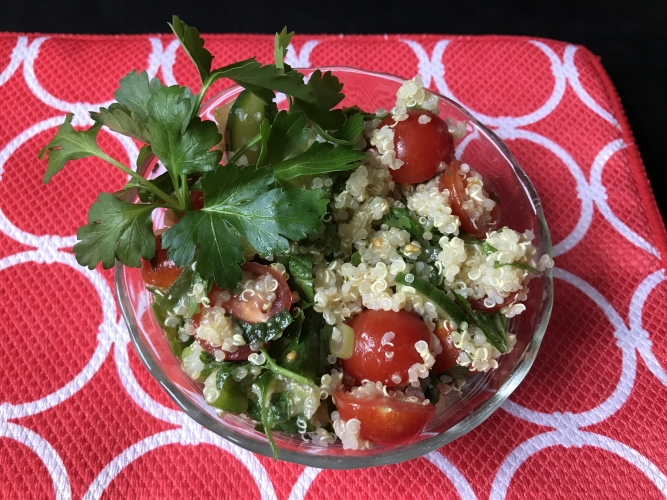 Ingredients
1 cup quinoa, dry (rinsed per package instructions)
2 cups water
1 bunch fresh parsley, finely chopped
1⁄2 bunch fresh mint, finely chopped
1 pint cherry tomatoes
1⁄2 cucumber, diced
3 green onions, sliced
Dressing
2 Tablespoons olive oil
3 Tablespoons fresh squeezed lemon juice (2 lemons)
1⁄2 teaspoon onion powder
1⁄2 teaspoon salt
dash black pepper
* meets Diabetes guidelines
Preparation
Add quinoa and water to a pot, bring to a boil, cover and reduce heat to low and simmer 10-15 minutes.
While quinoa is cooking, prep parsley, mint, cherry tomatoes, cucumber and green onion.
When quinoa is finished cooking, spread it out on a large plate to cool.
In a small bowl, combine all dressing ingredients and whisk until blended.
In a large bowl, combine all ingredients and dressing together, toss to mix.
Categories
Grain
Plant-Based Protein