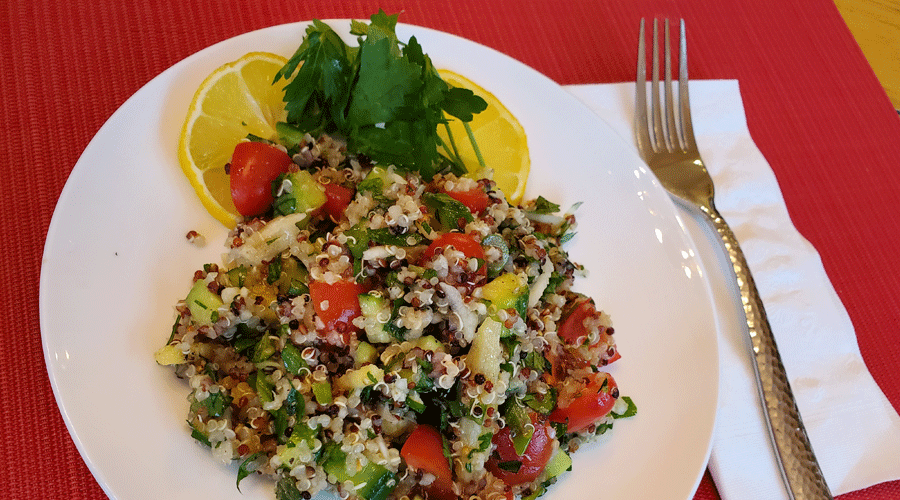 Ingredients
*Meets FodMap guidelines.
1 cup quinoa, rinsed well
1/2 teaspoon salt
1 medium lemon, juiced
1/3 cup olive oil, infused with garlic
1 large cucumber, preferably English, diced
1 pint cherry tomatoes, cut into forths
2 medium carrots, grated
1 cup parsley, preferably Italian parsley
1/2 cup mint, chopped
3 bunches scallions, thinly sliced green tops only
Preparation
Bring quinoa and 2 cups of water to boil in a medium saucepan over high heat. Reduce heat to a simmer, cover and cook until most of water is absorbed, about 8 to 10 minutes. Turn off heat and let quinoa rest, covered, for 15 minutes. Fluff with fork. Allow quinoa to cool to room temperature.
In a small bowl, whisk lemon juice and garlic infused olive oil. Season dressing to taste with salt and pepper.
Combine cucumber, tomatoes, carrots, herbs and scallions in a large bowl, add cooled quinoa and dressing to bowl and stir until combined. Season to taste with salt and pepper. Chill in refrigerator.
Categories
Grain
Plant-Based Protein
Vegetable
Dairy Free
Gluten Free
Vegan
Vegetarian