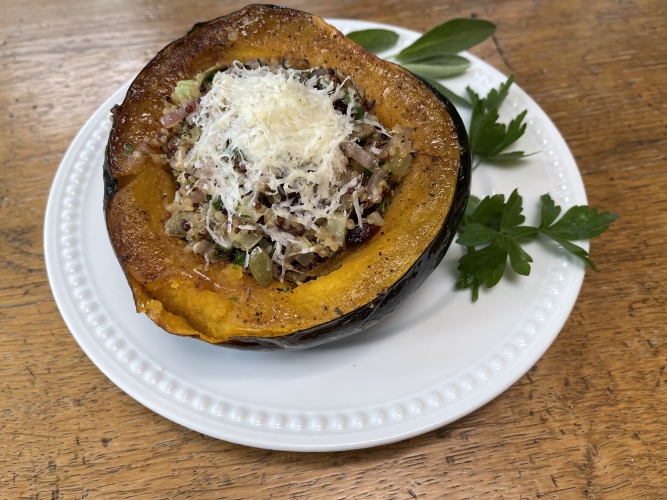 Ingredients
1 medium acorn squash
olive oil cooing spray
dash of salt, if desired
1/4 teaspoon nutmeg, freshly grated if possiible
1/2 teaspoon black pepper, freshly ground if possible
1/2 cup low sodium vegetable broth
1/4 cup quinoa, rinsed and drained
1 Tablespoon extra virgin olive oil
1 medium shallot, peeled and finely chopped
1 medium stalk of celery, finely chopped
1 clove garlic, finely chopped
1 teaspoon lemon zest
1 Tablespoon lemon juice
2 Tablespoons dried sweetened cranberries
1 Tablespoon dry roasted pepitas (hulled pumpkin seeds)
1 teaspoon fresh thyme leaves, chopped (or 1/2 teaspoon dried thyme)
1 teaspoon fresh sage leaves, chopped (or 1/2 teaspoon dried sage)
2 Tablespoons fresh parsley, chopped
2 Tablespoons peccorino or parmesan cheese, grated (optional)
Preparation
Preheat oven to 400 degrees F and line a small sheet pan with parchment paper (for easy clean-up). Lightly spray the paper with olive oil cooking spray (or spread a thin layer of olive oil on the paper).
To prepare the squash, use a sharp chef's knife to slice the squash in half from the tip to the stem end. Pierce the squash with the tip of the knife in the center where there is a depression line, then cut through the bottom - and then slice through the top next to the stem. Scoop out the seeds and stringy bits with a spoon (like cleaning a pumpkin before carving). You can rinse and save the seeds to toast with a little olive oil, salt and pepper just like you would with pumpkin seeds - or discard them if desired. Place the squash halves cut side up on the prepared parchment paper in the pan. Season with a dash of salt, pepper and nutmeg. Turn the squash over so that the cut side is flat on the pan. Bake 30-40 minutes or until the squash can be easily pierces with the tip of a knife. Set squash aside to cool slightly. Leave the oven on if planning to serve soon - otherwise squash may be prepared ahead of time and refrigerated until ready to heat and serve.
While the squash is baking, make the filling. To make the quinoa - in a small saucepan combine the vegetable broth with the rinsed and drained quinoa and place over medium high heat. When it comes to a boil, reduce heat to low and cover pot. Allow to simmer gently until the broth has been absorbed, about 15- 18 minutes. Remove from heat and allow to rest for about 5 minutes. Remove lid and fluff quinoa with a fork or small silicone spatula.
Warm olive oil in a medium skillet over medium heat. Add the chopped shallot and celery and cook, stirring often about 2-3 minutes or until slightly softened but not browned. Add the garlic and cook an additional minute. Turn off heat and stir in the cooked quinoa. Add the lemon zest and lemon juice, and stir to combine. Add the cranberries, pumpkin seeds and herbs. Season to taste with salt and pepper, as desired. Stir until ingredients are evenly distributed.
Turn the cooked squash halves over on the pan so that the cut sides are facing up. Spoon the filling into the hollowed out cavity of each squash half. Sprinkle the tops of the filling with about a tablespoon of grated cheese, if desired. Return the stuffed squash to the oven and bake until heated through - about 15-20 minutes. Serve warm.
Categories
Grain
Plant-Based Protein
Vegetable