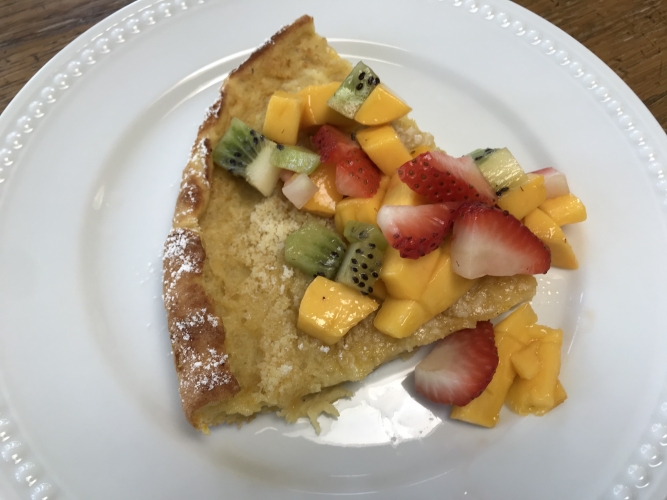 Ingredients
2 large eggs
1/2 cup low-fat milk (or your favorite non-dairy milk replacement)
1 Tablespoon sugar
dash of salt, as desired
1/8 teaspoon ground nutmeg
1/2 cup whole wheat pastry flour (or your favorite gluten free all purpose flour)
1 teaspoon orange zest
1 Tablespoon unsalted butter
1/2 cup diced mango
1/2 cup sliced strawberries
1 kiwi, peeled and diced
1 wedge of lemon
1 Tablespoon powdered sugar
Preparation
Preheat oven to 425 F. Lightly oil a 9-inch pie plate or oven safe skillet.
In a medium bowl, whisk eggs. Add milk and whisk again. Add the sugar, salt, nutmeg and whisk to dissolve the sugar. Add the flour and whisk until just combined - do not over-mix, the batter will be a bit lumpy which is fine. Stir in the orange zest.
Put the butter into the pie plate and set into the oven to melt the butter - about 2 minutes. Remove plate from oven and swirl to distribute butter around the plate. Pour the batter into the buttered pie plate and return to the oven. Bake 15-20 minutes or until pancake is puffy, golden browned on the edges and set in the middle - but still a bit moist (not dried out). the pancake will fall a bit as it cools. Squeeze the juice of the lemon wedge over the pancake and dust with the powdered sugar. Cut pancake into 4 wedges.
While the pancake is baking, slice the fruit and combine in a small bowl. Place a wedge of the pancake on serving plate and top with the fruit. Leftovers reheat well (keep the fruit separate until ready to eat.
This pancake is great with any of your favorite fruits - blueberries, raspberries, cherries, pineapple, peaches, sautéed apples, pears or plums - choose your favorites and enjoy!