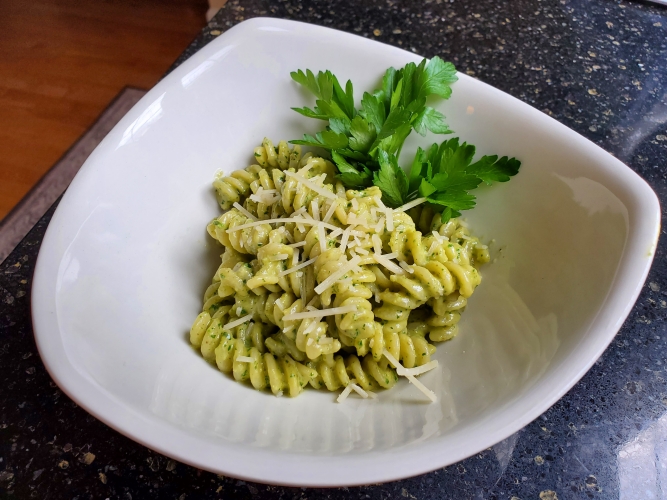 Ingredients
1/4 cup walnut halves, toasted
1/2 cup parsley leaves, washed and dried
1/4 cup pecorino romano or parmesan cheese, freshly grated
2 tablespoons extra virgin olive oil
1 garlic clove, smashed
12 oz. pasta noodles, slightly undercooked(by 1 or 2 min.)reserve pasta liquid if using.fusili or cavatappi work great
1/4 teaspoon salt
1/4 teaspoon ground pepper
1/2 cup vegetable broth or 1/2 cup of reserved pasta liquid
1 teaspoon unsalted butter
Preparation
In a small saute pan toast the walnuts for 3 or 4 minutes on low heat. Watch closely so they don't burn.
In a large pot of boiling salted water, cook the pasta and drain.(Reserve 1/2 cup of the liquid if using instead of vegetable broth.) In a food processor, pulse the walnuts, parsley and the garlic clove until finely chopped. Add the grated cheese and the olive oil and process to a coarse puree. Scrape down sides and season with salt and pepper. Pulse one last time.
Add the vegetable broth(or reserved pasta liquid) and butter to the empty pot and bring to a simmer. Add the cooked pasta and stir often as the liquid is absorbed(about a minute or two). Add the pesto and toss until combined and all pieces are coated. Transfer to serving bowl and garnish with additional grated cheese if desired.
Categories
Dinner
Lunch
Sauce/Dressing
Side Dish
Grain
Plant-Based Protein
Vegetable